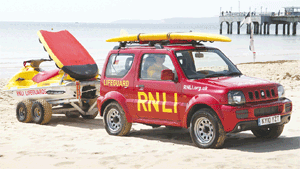 Suzuki GB has announced that the Jimny 40th Anniversary website is now live. The site shows the history of the Jimny series since its launch in 1970 with the LJ10 model. Archive information is available on the site – www.globalsuzuki.com/jimny/index – on model background and specification with a range of photos of each model.
When it was introduced, the Jimny was an affordable and lightweight but fully capable on and off-road vehicle – as it remains – and was powered back then by a 360cc two-stroke engine.
The current Jimny was introduced in 1998 with a 1.3-litre four cylinder engine, offering 85bhp, official combined fuel consumption of 39.2mpg and CO2 emissions of 171g/km, making it one of the least polluting compact 4x4s in its class.
The Jimny is available from £10,995 for the SZ3 model and includes metallic paint, front fog lamps, roof rails and remote central locking as standard equipment. Earlier this year, the RNLI (Royal National Lifeboat Institution) chose the Jimny to be its support vehicle based at beaches in the North West, Devon, Poole, Bournemouth and North Cornwall. Nine vehicles were supplied to the RNLI and are used for beach patrol work where conditions require a lightweight vehicle.