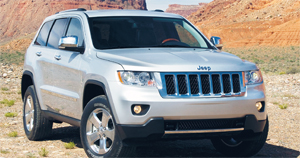 Jeep's 70th Anniversary year drew to a close with attendance at the Goodwood Revival, a fantastic event that anyone interested in motor vehicles should attend and enter into the spirit of a golden era of the '50s and '60s for motorsport, writes Hils Everitt. See next month's issue for a dedicated report, as this year the event was lucky to have Jeep as a main sponsor. Celebrating 70 years of the iconic marque, the show was bedecked with Jeeps from the past, from Willys to Wagoneers and Renegades. But the big news story was delivered at a press conference, held at Lord March's home, which revealed Jeep's future plans and model line-up.
So far, 2011 has been an important year of re-establishing the Jeep brand globally, with the launch of the new Compass, cosmetically tweaked Wrangler and brand new Grand Cherokee. Here at 4×4, we mourned the loss of the budget Patriot and excellent 2008 Cherkoee, but the good news is that Jeep plans to bring in a Cherokee replacement to represent the D segment SUV. That is due for launch in 2014, as is an, as yet, unidentified B segment SUV, plus a new Compass. Jeep will also introduce to Europe a new Grand Wagoneer – a name that had disappeared many decades earlier. 'We are developing this vehicle with Europe firmly in mind' is the official line.
We were also given a flash of a concept vehicle illustration that was definitely in the Evoque-mode that is currently doing the rounds of all the latest new SUVs on the block. Quite a departure for Jeep, but it's good to know that, after a worrying 2010 for the brand, new partner Fiat is very serious about its future in the US and in Europe.
So Fiat's intentions for its American subsidiary would appear somewhat 'urban' biased, but the positive news is the announcement of the launch of a diesel Wrangler with Stop/Start and a 'Trail Raider' spec; so speculate as you will!
Jeep is reporting a 44 per cent increase in European sales so far in 2011 – 'we can't build the new Grand Cherokee quick enough to meet demand'. Such an impressive figure must be held in the light of very poor sales in 2010; it's a big increase, but it starts from a low point. The company looks like selling 25,000 vehicles across Europe this year and the target for 2014 with all these new models is a massive 125,000. That's quite a forecast.