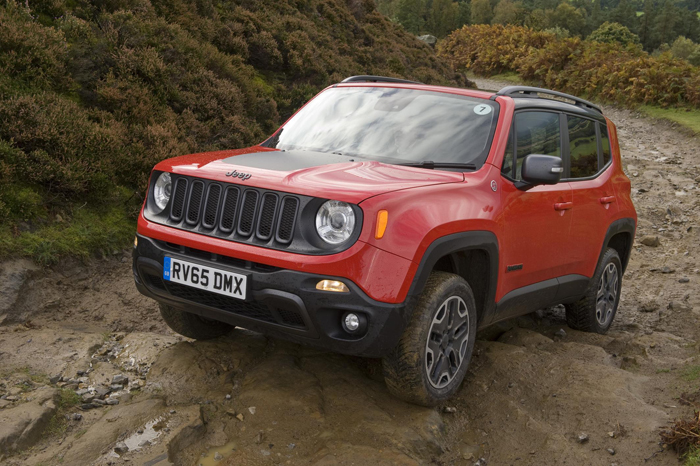 The hugely popular Jeep Renegade has been named 4×4 Magazine's '4×4 of the Year 2017', retaining the crown for the second year in a row.
Rapidly growing in popularity on the UK's roads, and hugely capable off them, the Jeep Renegade has had an excellent year of sales. To date, more than 16,500 two- and four-wheel-drive Renegades have been sold in this country while, in the UK and around the world, the successful B-segment SUV has continued to scoop numerous awards.
In this latest recognition, the off-road driving publication's panel of expert judges was unable to find a contender capable of taking away the Jeep Renegade's '4×4 of the Year' crown. Excellent on-road, the range-topping Trailhawk version also outshone rivals on 4×4 Magazine's tough off-road evaluation course.
"Since winning last year, we are now seeing many more Renegades on the roads here in the UK and in Europe," says Nigel Fryatt, Editor, 4×4 Magazine. "Admittedly, not all of them are Trailhawk versions, and some are front-wheel drive, yet that merely underlines the importance of this small SUV.
"The Renegade range is comprehensive and every owner is getting a well built, well equipped and surprisingly spacious small SUV. Those that choose four-wheel drive options get a lot more, with the Trailhawk version the absolute master."
In the same awards, the Renegade won the 'Mid-range SUV' category, the legendary Jeep Wrangler took the 'Hardcore' class for the fifth consecutive year, and the Jeep Cherokee won the 'Top-Range SUV' group.
"This has been another very good year for Jeep and for Renegade, rounded off nicely with the top award from a leading 4×4 magazine," says Damien Dally, head of brand, Jeep UK.
"Growing sales, continual good reports from the media and thousands of happy customers tell us that Jeep has a winning product in Renegade. And the verdict of expert panellists, such as those at 4×4 Magazine, confirms that view. I am delighted that Renegade has been crowned '4×4 of the Year' for the second year running."
The Jeep Renegade range starts at £18,195 OTR for the 1.6E-TorQ 110hp Sport, rising to £29,495 for the 2.0 MultiJet II Trailhawk.