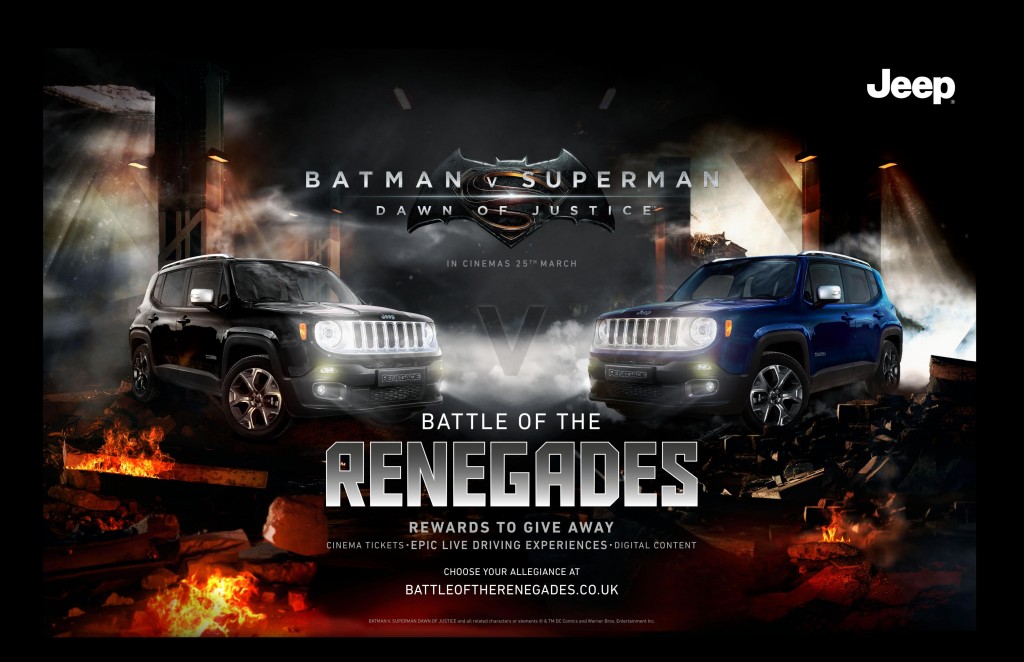 Jeep, celebrating 75 years as the iconic 4×4 SUV maker, has announced a partnership with Warner Bros. Pictures, becoming the official car partner of Batman v Superman: Dawn of Justice, in cinemas March 25.
The link-up with Warner Bros. Pictures kicked off during production, when Jeep's Renegade SUV model was deployed through the streets of Metropolis with Bruce Wayne, aka Batman, at the wheel for a key scene in the film.
Jeep UK is now launching an innovative online experience and advertising campaign, created in collaboration with the filmmakers. Prior to the release of Batman v Superman: Dawn of Justice, fans can get a sneak peek at previously unseen vehicle footage provided to Jeep UK in a special trailer only viewable as part of the online experience.
In Batman v Superman: Dawn of Justice, the world's most iconic Super Heroes clash for the first time ever on the big screen.  Jeep's online experience invites users to choose their allegiance and become a hero themselves in the 'Battle of the Renegades' by using the Jeep Renegade to help others and evade impending catastrophe.
Participation in this interactive online experience will be rewarded with a range of prizes, including live themed driving experiences and cinema tickets to Batman v Superman: Dawn of Justice, as well as a range of other related digital content. To enter visit: www.battleoftherenegades.co.uk
To join the conversation on social use #RenegadeBlack #RenegadeBlue #BVS, and follow Jeep UK on Facebook /JeepUK, Twitter @Jeep_UK and Instagram @Jeep_UK.
batmanvsupermandawnofjustice.net