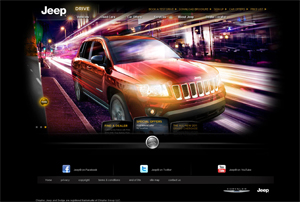 Jeep is celebrating its 70th Anniversary with a new look website, which also coincides with the company's UK launch of the newly redesigned Jeep Compass compact SUV.
At Jeep's site (www.jeep.co.uk) you will be able to extensively explore the latest Jeep line-up with 360˚ images of the vehicles, specifications, features and latest finance offers. If you're interested in trying out a Jeep for yourself you can now book a test drive online, download a brochure, find your local Jeep dealer and locate used car offers.
Keeping up with social networking, the new site will allow you to link to Jeep UK's new social media profiles on Facebook, YouTube and Twitter. Definitely worth doing if you want to keep up with the latest news, pictures, videos and competitions from Jeep.