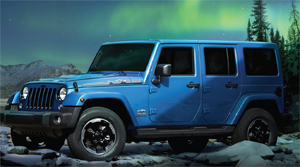 It seems that all may not be well with the union between Jeep and Fiat. Back in 2009, Chrysler was on its knees and had to be bailed out by the US government, and was relieved to gain support, joining forces with Fiat. At the time, the Italian manufacturer was by far the stronger, but it seems times have changed. Since that time, the workforce at the Jefferson North Assembly plant in Detroit has tripled, and the company has regularly recorded significant profits. In numbers, there has been a 10 per cent rise in vehicle sales over 2012 – much of this, the success of the latest version of the Jeep Grand Cherokee. Even leading to a delay in getting RHD versions into dealerships in the UK. Fiat, on the other hand, has not fared so well, with many manufacturers in the eurozone, it's been struggling to sell new vehicles.
This recent US market success has led Chrysler into filing an IPO (initial public offering), which could see the US company raising significant cash through a shares issue, money that would not necessarily find its way into Fiat's coffers. According to Nikhil Kumar in The Independent, this has somewhat upset Fiat. Indeed, the newspaper's story goes on to quote a comment from Chrysler saying that the Italian company had: "informed us that it is reconsidering the benefits and costs of further expansion." Is that a threat, a bluff or just some form of corporate foot stamping?
Indeed, it could all just be the strutting and posturing of multi-national global business negotiations, and when both sides actually show their poker hands, things will be different. There's a lot of negotiating still to be done, but the association of Fiat and Jeep always seemed surprising to us laymen; could the Italians and the Americans really get on, we wondered? Now you add to that the fact that Fiat (like other eurozone manufacturers) is having a tough time, while in the States, sales of Grand Cherokees are growing and the interesting new Cherokee is just arriving, will be on sale here next year, and is likely to be a success. The dear old Fiat Panda 4×4 is not quite a match for these established serious 4x4s, is it? Whatever happens, it's a fascinating business story that's still got some way to go, that's for sure. Watch this space.