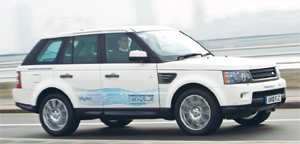 Jaguar Land Rover's Range_e has won the 2011 Society of Motor Manufacturers and Traders Award for Automotive Innovation. This important award goes to a vehicle that is Land Rover's first diesel-electric hybrid – and it wasn't many years ago that those words would have been met with incredulous and bewildered looks by most 4×4 enthusiasts.
The Range_e is actually capable of 89g/km CO2 emissions and a staggering 85mpg of fuel economy, thanks to the combination of the TDV6 diesel engine, 69kW electric motor and 14.2kWh lithium-ion battery. And the bonus is that the battery can be recharged simply by plugging into a 240V power source.
Paul Everitt, SMMT Chief Executive and chair of the judging panel, said: "Jaguar Land Rover has engineered and manufactured a highly efficient and technologically advanced prototype vehicle that clearly demonstrates the industry's commitment to lowering vehicle emissions and creating exciting products for demanding consumers. This award champions industry innovation, promoting cutting-edge automotive engineering and design that the UK is famed for around the world."
The Range_e is due to be put into serious production and will follow on from Land Rover's planned introduction of its first diesel-electric hybrid model in 2013.