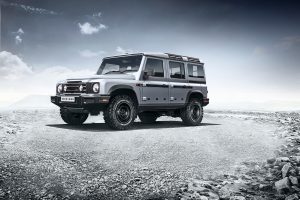 We've been hopeful about the INEOS Grenadier ever since the company announced its plans to build a spiritual successor to the original Land Rover Defender.
We've become increasingly hopeful ever since, through a series of revelations about what the vehicle is going to be like – a live-axled, ladder-framed off-roader with low range, full-time four-wheel drive and a locker in every diff.
And now we can be more hopeful than ever. Because at last, INEOS Automotive has revealed what it will look like.
You can probably describe what it looks like in one word. But the company's Head of Design, Toby Ecuyer, has a few more than that: 'We set out to design a modern, functional and highly capable 4×4 vehicle with utility at its core. A design that is "easy-to-read," with no ambiguity about the Grenadier's role in life. There to do everything you need, and nothing you don't. We have been able to stay true to the essence of creating a utilitarian vehicle that will stand the test of time.'
INEOS is adamant that the Grenadier is a vehicle whose form follows its function. Hence the unmissable resemblance to the Defender, perhaps – whose design brief, after all, was exactly the same. The company says it is 'very confident' that the styling revealed on 1 July will see off any legal challenge to its originality.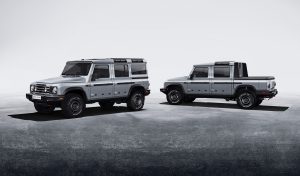 So far, the Grenadier has only been shown as a long-wheelbase five-door station wagon and extended-wheelbase double-cab. INEOS says, however, that it will be 'a family of vehicles' – at present, there's no formal talk of a short-wheelbase three-door model, but we fully expect that to be part of the company's plans.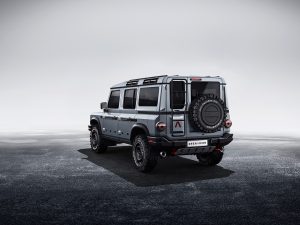 In addition to a more steeply raked bonnet, one of the most notable differences between the Grenadier and the Defender is its use of vertically split rear doors similar to those on the old Nissan Patrol and other Japanese trucks. The larger of these holds the spare wheel, while the smaller is the first to open, allowing small items to be loaded easily.
With both rear doors fully open, meanwhile, the Grenadier can accommodate a standard Euro pallet. Practicality as a workhorse is at the heart of the vehicle's design – its payload is more than 1000kg, and its towing limit is 3500kg.
The smaller rear door can be accessorised with a ladder for access to the roof – whose bars and strips allow a rack to be mounted in place and can also be used for securing loads directly.
Further load-stowing opportunities come from an optional 'utility belt' on the doors and rear body which can be used for attaching accessories such as a jerry cans. A further useful addition is a stowage box for wet and dirty boots and so on, which is integrated into the body and accessed from outside the vehicle.
And what's on the inside? As yet, INEOS hasn't shown us that – however it says it believes its customers shouldn't be forced to suffer for driving an off-roader and promises that space, quality, seat comfort and cabin refinement will reflect this. In addition, the Grenadier will 'meet the expectations of the 21st Century consumer for equipment levels and safety systems' – company executives talk of modern infotainment offerings… and send a telling nod in the direction of the original Defender by saying it will be possible to stay warm on board.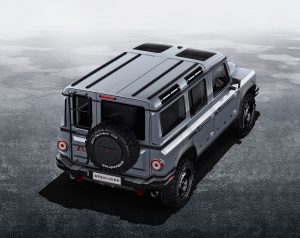 Further recognising the vehicle's intended usage, it comes pre-wired for LED bars, work lights, amber beacons and so on. INEOS says you can sit on its front wings, and the images released so far show it with BFGoodrich All-Terrain tyres on steel wheels.
The company says the vehicle was created as 'a blank canvas for accessories, so customers can tailor the Grenadier to their evolving requirements.' A wide range of accessories will be offered, but INEOS is eager for the aftermarket to develop equipment for it too – a welcome alternative to the attitude of most mainstream vehicle makers.
This reflects the openness the company has shown since its inception, with a willingness to communicate and lack of unnecessary secrecy which are refreshingly different to what most of us are used to. 'We are delighted to be able to share the design of the Grenadier so early in the process,' says Chief Executive Dirk Heilmann. 'Most manufacturers would hold back, but we are a new business, building a new brand, and we want to take people with us on this exciting journey.
'Showing the design now allows us to focus on the critical next phase of the vehicle's development, testing its capability and durability. We have a very challenging programme ahead, as we put prototypes through their paces in all conditions, on the way to accumulating some 1.8 million test kilometres over the coming year.
'From today, the covers are off. Testing in plain sight, without the need for camouflage wrapping, foam blocks or fake panels is an added benefit.'
So you can expect to see Grenadiers on (and off) the road any day now. When it goes on sale late next year, the vehicle is projected to cost from around £30-35,000, meaning it will compete head-on with the Toyota Landcruiser and undercut the Jeep Wrangler in the traditional off-road market. We're getting more and more hopeful all the time.