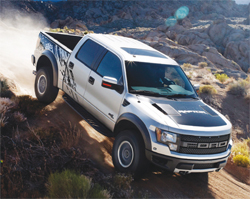 The Ford F-150 SVT Raptor is ensuring customers have even more power on demand for their off-road adventures by making the previously optional 6.2-litre V8 engine standard for 2011. With 411bhp and 434lb ft of torque, the engine makes the F-150 SVT Raptor the most powerful half-ton pick-up on the market.
Lowspeed manoeuvres, such as rock crawling, driving up a grade or accelerating through deep sand, require much less throttle input because of the engine's increased torque.
The exhaust for the 6.2-litre engine was uniquely tuned to deliver the performance-oriented, high-horsepower sound customers want. Additionally, a unique firing order provides a distinctive roar. The V8 is similar to the engine used in the all-new 2011 Super Duty, but features unique tuning and a special cam profi le to produce more horsepower and torque. The engine was put to the test in its element – the desert of Borrego Springs, California.
"We spent a lot of time developing our desert durability test so that it's very close to replicating the Baja 1000," said Kerry Baldori, global performance chief functional engineer. "Desert testing proved to be a very quick way to learn about the reliability of the truck, and it put another level of extreme loads on the engine that our normal durability testing doesn't need to cover." Engine cooling is key on Raptor – when the truck is in a desert environment, the hot weather and deep sand put a heavy load on the vehicle, and the engine has to exert maximum power to keep the truck powering on.