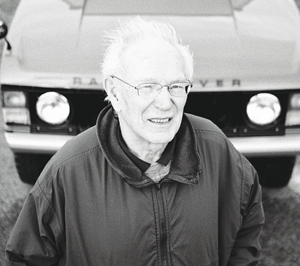 CHARLES SPENCER (SPEN) KING 1925-2010
With supreme irony, the man regarded as the 'father' of the Range Rover died recently just as the iconic vehicle was celebrating its 40th anniversary.
Spen King was much more than the driving force behind Land Rover's _ agship 4×4. He was primarily a down-to-earth engineer with special interest in new technology.
A nephew of the Wilks brothers who ran the Rover Company, he was involved in Rover's ground-breaking jet cars of the 1950s and '60s as well as playing a leading role in the innovative P6 or Rover 2000 series. With the takeover of Rover first by Leyland Motors and then as part of British Leyland, he found some of his more advanced vehicles, such as the Rover P8, coming under scrutiny by the cost analysts who decided his features were too expensive to be pro_ table.
Despite this, he went on to be Chief Engineer of the Rover Triumph division and continued to produce innovative designs, such as the unique, single overhead camshaft, 16-valve arrangement of the Dolomite Sprint. He also worked on advanced, energy saving concepts before retiring from the company. But it will be for the Range Rover that he was best known. The concept of using coil springs on an off-road vehicle was said to have started when Spen drove a P6 across a field and with the company busy on other projects, Spen and his team were largely left alone to develop the vehicle.
While the Range Rover remained undeveloped in the dark days of British Leyland, its potential was realised in the 1980s. The company celebrated Spen's involvement with the brand with a limited edition, the Range Rover CSK, to mark the model's 20th anniversary in 1990.
As a lasting tribute, the design cues he sketched out in the 1960s remain on the latest Range Rover model, the Evoque, revealed