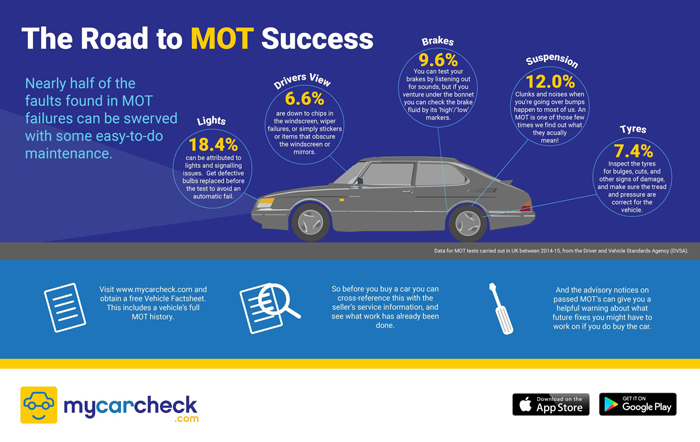 The latest MyCarCheck.com infographic uses Driver & Vehicle Standards Agency data to highlight the most common reasons for MOT failures, including blown bulbs, chips in the windscreen, and worn brakes, shock absorbers and tyres.
| | | |
| --- | --- | --- |
| | Reason for MOT failure | % tests |
| 1 | Lighting & signaling | 18.4 |
| 2 | Suspension | 12.0 |
| 3 | Brakes | 9.6 |
| 4 | Tyres | 7.4 |
| 5 | Driver's view of the road | 6.6 |
Source: DVSA (from MOT tests 2014-15) 
Used car, van and motorbike buyers can now access MOT history completely free of charge as part of My Car Check's new Vehicle Factsheet, which also features other previously charged-for data, notably valuations. See: www.youtube.com/watch?v=uUCP_vfha4E 
Head of MyCarCheck.com, Roger Powell, said: "Our new Vehicle Factsheet provides buyers with everything they need to narrow their search. The MOT data is particularly useful as you can see if a vehicle sailed through its last test or needed work and a retest. The advisory notices are also very useful as they show what repairs will likely need doing soon. Potentially expensive items, like four worn tyres, can be grounds to push for a price reduction. The mileage data protects against clocking, while the valuations confirm if the sticker price is in the right ball park. All this, in one place, for free – why wouldn't you do it?"
With information from the police, DVLA, insurers and finance houses, My Car Check holds comprehensive data on every vehicle on UK roads – things that buyers should be aware of before making an offer.