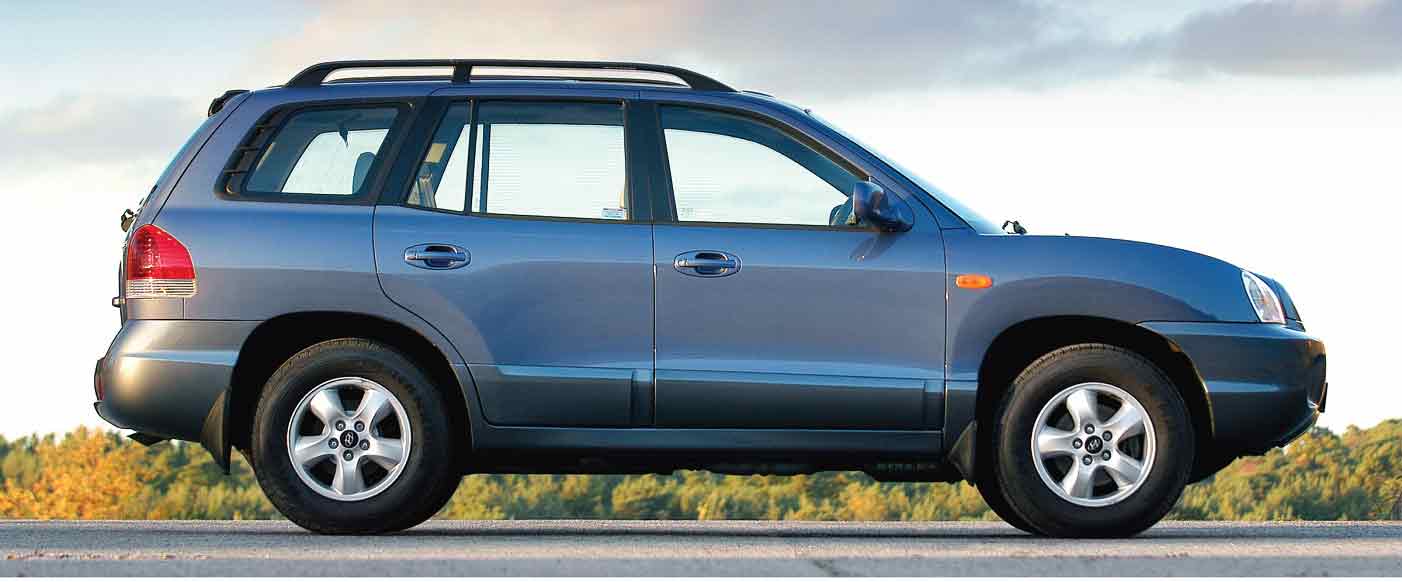 It may be ugly, but there's no doubting the value for money of this roomy Korean estate. What attracted many to buy this wacky newcomer of 2001 was the very attractive pricing – the Santa Fe was pitched competitively against smaller SUVs such as the Land Rover Freelander and Toyota RAV4 while also offering an extraordinarily high equipment specification with even the base versions boasting alloy wheels, air conditioning, electric windows and electric sunroof along with driver and passenger airbags, while the 2.7 V6 range-topper has leather upholstery and heated electrically adjustable seats, CD system and climate control as well as side airbags, and you needn't trouble your bank account for more than £500 to acquire an early example, certainly no more than £1000 for a well-maintained low-mileage example from 2002 or 2003.
Don't make the mistake of assuming that a second-hand Santa Fe would make a cheap high-fun off-roader for some serious play-day mudplugging, because although the four-wheel drive is permanent, there's no low-range gearing and the epicyclic differential puts 60 per cent of the drive to the front wheels which is a good balance to ensure stabilising understeer in fast on-road driving, but can cause erratic behaviour in delicately slippery off-road conditions. The Hyundai is a monocoque design so there's no separate chassis to cushion the body from off-roading knocks and scrapes, and the suspension is a road-biased all-independent struts and coils type, which means it doesn't have the sort of articulation or ground clearance enjoyed by purpose-built offroaders.
However, as a well-priced highspecification comfortable family-sized urban SUV it's a hard package to resist. First offerings gave a choice of 2.4-litre or 2.7-litre V6 petrol power, with a 2.0-litre common-rail turbodiesel joining the range just weeks after the launch, though the more desirable version is the tweaked CRDT introduced in 2004, not more powerful, but smoother-running and more economical and with lower CO2 emissions, fortunately your £3000 should easily get you into a low-mileage, wellmaintained run-out model from 2005.
The Santa Fe is a delight fully sweet drive on the road in V6 form. Mated to a four-speed auto with trendy sequential shift facility, the 2.7-litre 24-valve unit pulls strongly but does exhibit an urgent edge as revs climb, if there's a downside it's that the steering has a rather The Sorento is interesting in that in spite of being styled for the city as a rival to the likes of the Land Rover Freelander and Nissan X-Trail its body sits on a proper separate steel chassis, which along with the low-range transfer gearing marks it as a practical off-roader.
By the same token it doesn't have all-independent suspension; the front wheels are independent with coil-sprung doublewishbones, but the rear axle is rigid, and though also coil-sprung doesn't promise quite the same levels of ride comfort as its allindependent rivals. That's a small point, however. More interesting is that you can choose between a permanent four-wheel drive system, which is fitted to premium versions, or a selectable system as fitted to the base XE.
There seems to be no logical reason for offering two different types other than the idea that people buying into a more expensive car would expect permanent four-wheel drive. Whichever system is applied the car comes with either a 3.5-litre V6 or 2.5-litre commonrail turbodiesel engine. Turbodiesel versions could have either five-speed manual or four-speed automatic – later upgraded to a five-speeder – while the petrol versions were only available with automatic. T
he smooth, quiet performance of the turbodiesel engine is impressive, and although it's a little underpowered, with a mere 138bhp to hauling a car that weighs over two tonnes it doesn't add up to nippy acceleration, it offers relaxed cruising performance and good economy. The improved engine installed for the 2007 model year was a significant improvement with its 168 horse, but we've not seen any of these priced at £3000. Meanwhile the petrol engined alternatives are by far the better drivers' cars, the higher fuel consumption countered by smoother, quicker performance as well as the availability of low-mileage models from 2006 within our budget.
All the Sorentos are exceptionally well equipped, the main reason for wanting a high-specification one would be to enjoy the heated electrically-adjustable front seats and the leather upholstery, or the satnav of some later models. The fact that they're all so well-equipped shows up on second-hand forecourts where there's often not much difference in price between XE and XS models, so it is worth shopping around for that extra bit of luxury, especially if you like the idea of permanent four-wheel drive. An early 2003 example with over 100,000 miles showing shouldn't cost more than £3000, though we've spotted low-mileage, well-maintained examples of this era asking £4000.
There's no reason to pay that much, because there are plenty of examples on offer for a lot less. There doesn't seem to be much of a price difference between turbodiesels and the V6, generally because the weaker demand for petrol power is countered by the generally lower mileage compared with most diesels at this price. The turbodiesels seem to be robust and reliable engines, one advantage being that they have chain-driven camshafts.
The V6, unfortunately, does have a camshaft driven by a belt that needs changing every 60,000 miles so when buying a car with that mileage – or, as is quite likely on an earlier example with 120,000 miles showing, make sure the belt change has been done, or argue £300 off the asking price to cover the cost. Diesels do suffer the common problem of sticking or clogged EGR valve which can lead to smoky exhausts, poor performance and rough idling, a problem that is easy enough to remedy but since similar symptoms might be the result of worn injectors, faulty injector pump and failing turbocharger, it's as well to reject any car that doesn't run sweetly and blow clean exhaust. Gears have been known to shed teeth, so listen for clicks in each gear and make sure the manual doesn't jump out of gear.
The selectable four-wheel drive system engages in response to a button on the dash, and sometimes takes a minute or so to engage and even longer to disengage. Make sure it works, a failure to do so could be nothing more than a poor electrical connection, but it could also mean serious transfer case damage. Wheel bearings also fail, listen for the telltale groaning noise as you drive. vague feel about it – the car handles reasonably well, but the steering feels remote and lifeless.
The 2.4-litre four isn't quite so successful, a dull performer in comparison and a little too harsh when pressed, there are a few early examples about but the later turbodiesel is the best bet, not an exciting performer but adequately refined and economical. The interior, like the exterior, has a somewhat wacky edge to it with that clumsylooking steering wheel, but the seats are comfortable, the facia and controls are well made and sensibly laid out. There's plenty of headroom and legroom for three abreast in the rear seat, which also has a reclining function, and the boot is capacious and accessible through a flip-up rear window as well as through the lifting tailgate.
Reliability is generally good but the engine and transmission do need proper maintenance, skimping on oil quality can result in excessive wear to the valve train, listen for any tinkling or rattling from the top end. If you're considering a diesel be sure to start it from cold, weakened glow plugs are common, leading to starting difficulty. The 2.7 petrol V6 should also be checked from cold to make sure it starts well and runs without hesitation, because the fuel pressure regulator can leak. Check the water pump for leaks and make sure cam belt changes have been done at the required 60,000-mile intervals.
Make sure the transmission engages without fuss, shifts smoothly and kicks down responsively. On a manual check that shifts aren't overly baulky or noisy, particularly in cars that have been used for towing – the 2.7 V6 Santa Fe is rated to tow 2.3 tonnes, the 2.4 petrol only 1.4 tonnes, so worn synchromesh from snatched downchages may be a problem. The clutch should engage smoothly, any shuddering might indicate a looming and expensive failure of the dual-mass fl ywheel. Worn anti-roll bar bushes are common, resulting in clonking noises when running over potholes or when cornering, and wheel bearings, particularly at the rear, are prone to failure.
OFF-ROAD:
ON-ROAD:
VALUE FOR MONEY: