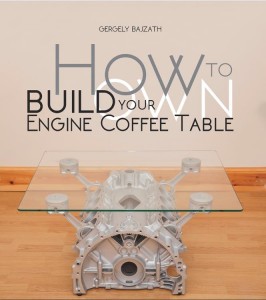 Yes, that's right – if you fancy getting creative why not build your own engine coffee table. There's even a book to help you!
Gergely Bajzáth has made a good number of engine coffee tables, and constantly enjoys positive feedback and comments about his work. Now, in 'How to Build your own Engine Coffee Table', he has decided to share his methods and tips with you, so that you can make one of your very own!
Whether in your living room, workshop, den, man cave, or girl shed, an engine coffee table is a great talking point, and is almost guaranteed to become the main topic of conversation when friends visit.
This book shows you everything you need to know to create your very own furniture centrepiece. From the best choice of engine base, to instructions on design and fabrication for appearance and safety. Hand painted finishes are covered, and a dedicated section shows how to safely plan, prepare, and fit a glass top for a serviceable, and safe, end result.
HOW TO BUILD YOUR OWN ENGINE COFFEE TABLE by Gergely Bajzáth
ISBN: 9781845848842
UPC: 6-36847-04884-6
AVAILABLE NOW!
£9.99