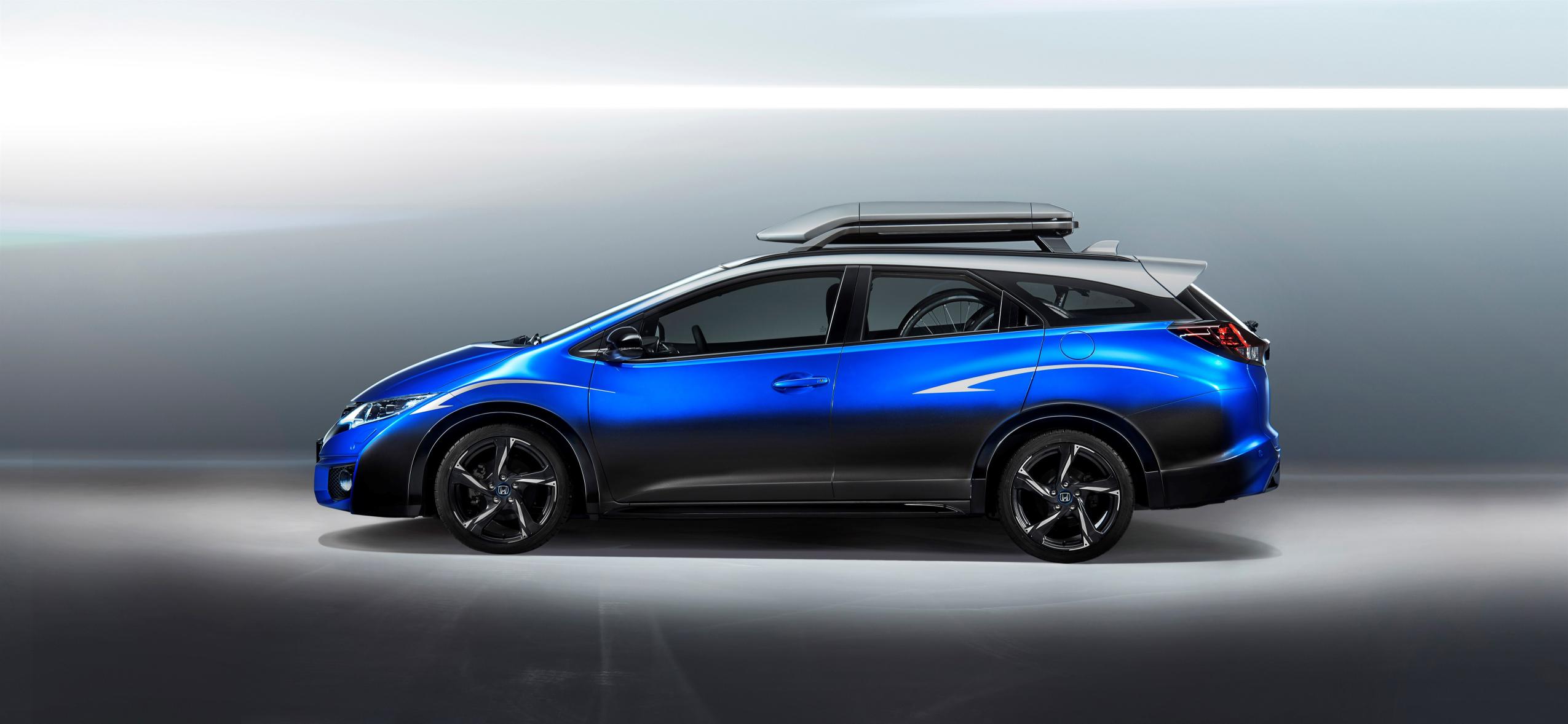 Honda (UK) will use the Triathlon Show: London 2016 (ExCel London from 11th – 14th February 2016) to introduce its cycling special 'Active Life Concept' to the UK public for the first time.
The Concept aims to demonstrate both Honda's customer-centric innovative thinking and the versatility and load space of the Honda Civic Tourer, proving that utility and style can work together hand in hand for customers living an active lifestyle.
Making the very most of the Tourer's class-leading cargo space and its low loading height, the Active Life Concept features an integrated smart loading rack capable of transporting two bicycles, with a retractable arm which can be extended for easy bike repair and maintenance. Further storage solutions for the touring cyclist include a toolbox, bottle holder, water tank and front wheel holder, all integrated within the boot's side lining; as well as a special aero shape roof box to accommodate essentials such as shoes and helmets. Other maintenance essentials include a built-in air pump, a large light and extendable shade over the tailgate, and a retractable bench.
This accessorised interior is complemented by a sporty exterior, further reflecting the active lifestyle of the target customer. A custom blue paint finish with a lower gun-metallic gradation and silver roofline help accentuate the Tourer's sleek styling and aerodynamic design, while new 18-inch alloy wheels and a custom design rear bumper further highlight its sporty character.
Phil Crossman, Managing Director for Honda (UK) comments: "This amazing Concept takes the Civic Tourer's already incredible practicality and versatility to another level, with several extremely clever solutions to make the very most of its tardis-like interior space. While just a design study with no plans for mass production at this stage, it does go to show how our cars are ideal for customers with an active lifestyle, and we're looking forward to hearing what visitors to the show think of it."
Honda will also be offering younger visitors to the show the chance to try motorcycling for the first time, with the 'My First Licence' experience. Designed for 5-11 year olds, and always very popular, budding young riders will hop on to a restricted 50cc motorcycle under the guidance of highly-experienced trainers to learn the basics in a safe and controlled environment. All equipment required will be provided, and once proficient each trainee will take away their very first license – a replica of that received by an adult when they pass their test.