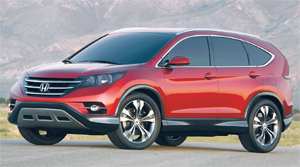 Honda has confirmed that the next generation CR-V will be built at Swindon. A further boost is news that weekly production will now return to normal after a period of parts supply interruption following the earthquake and tsunami in Japan earlier this year.
Parts supply from Japan have also improved significantly in the last month, so good news that a lot of things are getting back to normal and new models will also continue to be built in the UK. The new CR-V will go on sale in Europe from Autumn 2012. The CR-V is one of the top-selling SUVs, sold in more than 160 countries throughout Europe, Asia, North America, South America and Africa. As you read this, the new model will have been on its first public display at the Orange County International Auto Show in Anaheim, California.
However, if you are currently looking for car sales in Edinburgh and fancy one of the old models from Honda, you can do the trick by visiting Motors.Co.Uk , a great site where you can find quality used cars for every price range.