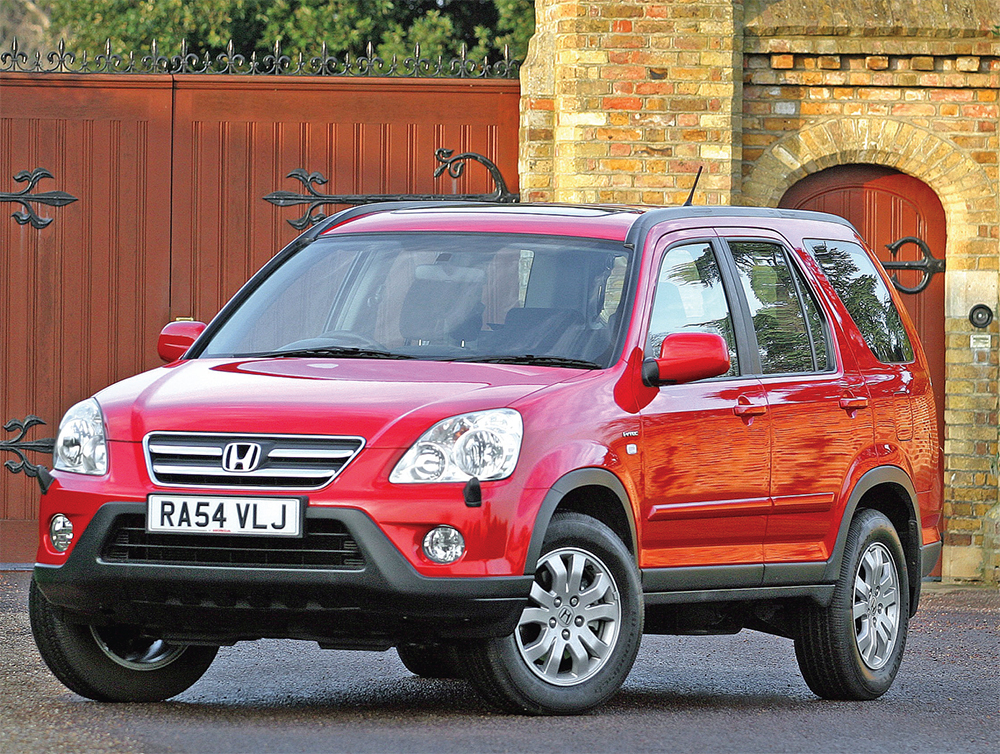 What's good about the second-generation CR-V is that it retains much of the character of the practical estate original though with a more stylish appearance. It's a slightly larger car with a stronger bodyshell but also with more power, enhanced instrumentation and equipment and better ride and handling. Early examples all came with 2.0-litre petrol power, there's a good selection of these available second-hand in good shape and with reasonable mileage priced from £2000, more importantly within our £3000 budget you should be able to get one of the 2005 models with the 2.2-litre CTDi turbodiesel engine.
Pricing, even more so than with other models, appears to depend more on condition and mileage than age, so you might prefer to consider an older car exhibiting less wear and tear. The interior of the CR-V is rather drab, with the oddball exception of the centre console with its metallic trim and complex air conditioning controls. It sprouts what appear to be a pair of grab handles, the one on the driver's side turning out to be the handbrake lever, a wacky touch contrasting with the otherwise plain interior.
There's also a surprising lack of oddment storage, and what there is, isn't that practical – there's an open shelf in the dash which sheds anything stowed there the moment the car accelerates.
The lack of a centre console gives the interior an airy feel, but leaves the driver short of somewhere to store a phone or a bag of sweets. Otherwise practicality is good, the rear seats for instance not only fold up to enlarge the cargo area but also have independent fore-aft and recline adjustment, they also drop flat to provide a load bay that's long enough to take a couple of mountain bikes.
It does have rather fiddly load bay access, a two-piece arrangement whereby the rear window first pops up, then the lower door section, carrying the spare wheel, swings open sideways. It does at least allow smaller items of shopping to be popped in without having to open the entire door, useful if you've parked in a tight spot. All versions are well-equipped, the SE includes air conditioning, antilock brakes and driver, passenger and side airbags, electric front windows, height-adjustable driver's seat, folding table between front seats and an RDS stereo with CD player.
The SE Sport adds an electric sunroof, headlamp washers, alloy wheels and a hard spare wheel cover, while enhancements for the SE Executive include satnav. The petrol engine with its variable valve timing is particularly pleasant to drive, since it not only revs and pulls well delivering quite lively performance, but also has surprisingly good low-rev torque, which is useful in awkward off-road situations where slow progress is required.
Standard transmission is a smooth-shifting five-speed manual, some will have the four-speed automatic. On the road the CR-V has a comfortable ride, so much so that although the steering is light and direct the car can feel a little vague in fast corners.
The softish suspension can also make the Honda feel a little bouncy when driving over unmade surfaces, but otherwise it insulates the occupants quite well against more serious ruts and bumps on an off-road outing. Not that the CR-V cries out to be taken off-road, the four-wheel drive system is a "real-time" arrangement where the front wheels are driven most of the time with drive being fed automatically to the rears when needed. Besides, the suspension lacks articulation, there's no low range gearing nor advanced electronic aids such as hill descent control. Things to look for include a weak starter motor, either insist a replacement is fitted or look for another car.
High mileage cars can suffer from worn cylinder bores and valve guides, on a test drive watch for tell-tale wisps of blue smoke from the exhaust on acceleration or on the overrun. Make sure the engine runs smoothly without flat spots or misfires, usually caused by ECU glitches difficult to diagnose and expensive to repair.
A common problem is the degrading of the lubricant in the 'dual pump' mechanism in the rear differential, which results in groaning noises when turning on full lock, a problem that is often misdiagnosed as a fault with the steering. Caught in time the cure is simply a matter of replacing the lubricant. Check that the air conditioning works, as air con pumps have been known to fail.
OFF-ROAD:
ON-ROAD:
VALUE FOR MONEY: