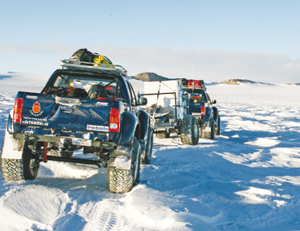 After completing the first expedition to the South Pole this season, a fleet of Toyota Hiluxes has successfully carried out yet another extraordinary journey to reach the South Pole.
In November and December, four Hilux pick-ups transported expedition members of the Indian National Centre for Antarctic and Ocean Research (NCAOR) – studying snow chemistry, the glacial landscapes and the bedrock hidden beneath the ice – on a 4600km round trip from Novo Air Base to the South Pole, and safely back.
The four Hilux vehicles were again adapted by Icelandic Toyota 4×4 conversion specialist, Arctic Trucks, for the month-long expedition. Faced with extreme weather, average temperatures of below -40°C and peaks of -56°C, altitudes of over 3400m and the most brutal driving environment imaginable, NCAOR selected the Hilux as it combines several exceptional attributes essential to survival on the world's harshest continent.
It has produced good fuel consumption. Even with the use of less energy-efficient Jet 1A fuel, the vehicle engine running 24/7 and running an extra heating system constantly, this gure is ve to eight times lower than achieved by tracked vehicles.
This signi cantly reduces both transported fuel loads and fuel costs. Secondly, the Hilux has a uniquely high load-carrying capacity. It combines a low unladen weight of 2200kg tons with a payload capacity of 1500kg tons and a towing capacity of 3000kg – an essential attribute when carrying the expedition equipment, spare parts and participants, as well as 1280 litres of fuel per vehicle.
Necessary modifications made by Arctic Trucks included a crane to lift heavy equipment and fuel, the use of Jet 1A fuel with additional lubricants to tackle the extreme cold, revised front/rear suspension and drivetrain, extra heating system, crawler gears, crevasse protection and the fitment of extra large tyres in ated to 20psi.