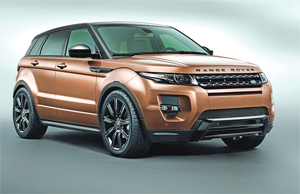 It's been a busy month for the guys at JLR! After the announcement of the new Jaguar SUV, there has also been the Range Rover Hybrid (full details, page 14, November 2013) and some significant changes to the best-selling Evoque.
It's somewhat difficult to believe that we've had the Range Rover Evoque with us for over two years. We first wrote in detail about the Evoque in June 2011, and it won our 2012 4×4 Of The Year; in fact, it won practically every award that was available to a 4×4! It's true to say that initial reaction for some people was not so positive, with fatuous comments about it not 'deserving' the Range Rover badging on the bonnet being high on the traditional Luddite view. What no one can deny, however blinkered and covered in axle grease they may be, is that it has been an astonishing global sales success. Some 170,000 units have been sold in a mere 18 months. Jaguar Land Rover cannot build enough of them, and that demand hasn't dropped at all, and plans are now being investigated to expand the Halewood plant so they can make more of them. And quicker.
In terms of a vehicle's model lifetime, however, two years is a long time and the market expects revisions, updates, and the Evoque is no exception. It does seem, however, that some things do not change and the traditional Land Rover view of 'evolution, not revolution' means that the revisions to the Evoque are not dramatic, but that's not to say they are not significant.
Central to the 2014 model year Evoque is the nine-speed automatic gearbox, coupled with new driveline technologies. JLR claims that this gearbox 'is among the world's first nine-speed units fitted to a passenger car'. Now surely that's a non sequitur; you are either first or not? Pedantry aside, this is an impressive gearbox, you simply cannot believe the speed of the changes, nor can you feel them, and the result (and reason it is built) lowers fuel consumption some 11.4 per cent and reduces emissions by up to 9.5 per cent. Depending on the model, this means a Combined fuel consumption figure of up to 57.6mpg, with CO2 emissions being as low as 129g/km.
The 2014 models will also make that driving experience even more automatic, with 'driver assistance capabilities' being 'significantly advanced'. You can now automatically exit parallel parking bays with the Park Exit option (having used the present Park Assist system to get in there), plus there's now Perpendicular Park (to position the car centrally in parking bays), Closing Vehicle Sensing and Reverse Traffic Detention (warning you of oncoming traffic), Lane Departure Warning, Traffic Sign Recognition (which somehow doesn't bear thinking about) and Wade Sensing – options from its bigger brother.
Very useful is the In Control Remote system that triggers an SOS Emergency Call, which automatically informs the emergency services of the vehicle's position in a breakdown. There is also a hidden button, which means this can be triggered manually – sadly, in today's world, that is an excellent option that will offer additional security especially for any solo driver's feeling vulnerable.
There is also an option called Active Driveline which means the vehicle will run as a front-wheel drive vehicle at steady speeds above 22mph, reconnecting to a 4×4 whenever the vehicle decides it's necessary. This happens in 300 milliseconds and distributes the torque between the four wheels with Active Torque Biasing thanks to the electronic diff (e-Diff) – initially only available on the Si4 petrol engine Evoques.
Externally there are some new colour options, four new alloy wheel styles and a new Land Rover badge on the grille. Surprisingly, the LR badge wasn't on the original motor show launch model and one possibly anecdotal story claims that there wouldn't have been an LR badge on the Evoque at all had it not been from a decision made by Ratan Tata himself when he first saw the finished model…
The Evoque is now jam-packed with the very latest technology. Prices of the 2014 models, available in the autumn this year, had not been released as we went to press. One thing is certain, JLR are going to need that extra production capacity since sales demand is only going to continue.