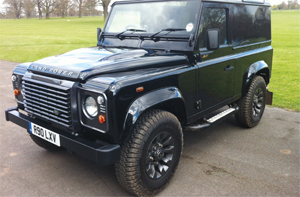 The Solihull 4×4 maker celebrated 65 years since the first model was unveiled at the Amsterdam Motor Show in 1948, by staging the biggest celebration in its history at the legendary Packington Estate near Coventry, a stone's throw from the factory where they're built to this day and the present day head office in Whitley, writes Phil Weeden.
Land Rover may be 65 years old now, but it's showing no signs of needing its free bus pass any time soon. In fact, far from being a fading British brand, a relic from long-gone halcyon days, Jaguar Land Rover (comprising the two survivors of the dim British Leyland era) is fighting fit and enjoying a confidence like never before thanks to a product-led renaissance unseen anywhere else, certainly not in North America or Europe.
So it's great to see that, while the future looks fabulously exciting for the brand, Land Rover is still pausing to remember its rich heritage. It staged a celebration of those humble origins back in 1948 with the biggest gathering of heritage vehicles – over 150 to be precise – at the Packington Estate near Coventry, where many of the early brochure shots were photographed.
As well as seeing a real world display of seven decades of Land Rover history, the brand also unveiled the new LXV (Roman numerals for 65) special edition Defender, pictured here. Featuring a 120bhp 2.2 turbo diesel and six-speed 'box, the LXV model is an understated but still rather stylish celebration of Land Rover's glorious past.
The LXV wears 16-inch Sawtooth alloy wheels and comes in Santorini Black or Fuji White with contrasting Corris Grey roof, grille and headlight surrounds and fascia. The interior boasts full leather seats with LXV embossed front headrests and orange contrast stitching on the seats, steering wheel and centre cubby compartment to complement exterior LXV decals. An optional union flag decal can be located on the rear of the vehicle. Prices will be available in August.
We had a chance to drive it on the roads in the area, as well as around the Packington Estate. The Defender is such a well-known quantity these days that very little surprises us, but the 2.2 turbo diesel is smooth and relatively refined in such an ageing package. It's also a perfectly respectable performer with decent torque when required. The six-speed transmission is not the greatest with a long throw in particular over to the final leg of fifth and sixth gears. To some extent, one forgives failings such as these, because the Defender's simplicity is its charm. Any undue complications only dilute the pure 4×4 experience. While a Discovery 4 would in truth run rings around a Defender on and off-road, there's an honesty, an authenticity about a Defender that imbues it with an appeal which is hard for some to resist.
For some 4×4 enthusiasts, however, the appeal of the Defender in 2013 is harder to understand. What is perhaps more obvious is that within the company's latest high-tech, high-price and high demand model range, the Defender remains the only true link with the original 1948 Land Rover, and deserved to be the subject for the 'celebration' special edition.