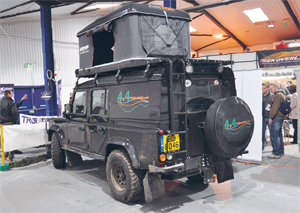 After years of one-marque Land Rover Shows the Overland & 4×4 Travel Show, held at the Warwickshre Exhibition Centre in February, was a very refreshing change, encompassing all makes of vehicle, writes Simon Ward-Hastelow.
All the big players were in attendance offering advice, products and services. Supporting the fact that overland trailers are a growing section of this market there were quite a few on display. Adventure Trailers, My Way and Intrepid Campers all had their units on display. Mud-UK, European Agents for AT, had a fully-kitted unit, complete with roof tent, as well as a bare chassis to illustrate how it has made the US brand legal for EU roads.
APB Trading, Touring Gear and 4×4 Overlander were on hand with large stocks of equipment covering every aspect of kitting out your truck. The range of storage boxes offered by APB is very impressive with every possible shape and size.
Tour organisers were in attendance covering all areas of the globe; companies like Atlas Overland, Waypoint Tours and Alpine Rovers had good displays showing their routes and galleries from previous outings.
We look forward to next year's show, and if this event was anything to go by it should be a good one. Visit www.4x4travelshow.co.uk for details.