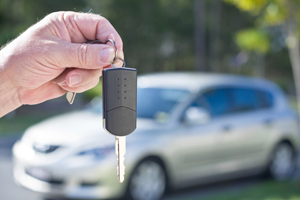 When you're changing your car it's natural to focus on choosing and finding the new one – but a crucial part of the cost equation is getting the best price possible for the used cars you're replacing. Here's how to make the most of your old motor.
How should I sell it?
The no-hassle option is to trade it in in part-exchange with a dealer – but old used cars and used vans, or vehicles of a brand or type that the dealer sells, are unlikely to get a great price, and selling privately will be a better option. Weigh up the price you're offered for your car versus any discount on the price you're paying for the new one: one may compensate for the other.
Advertising your vehicle online is easy, and will bring it to the notice of a large number of buyers. Advertise it honestly, with a set of clear pictures and as much useful information as possible – age, mileage, service history, exact model designation and any optional extra items of equipment it has fitted. If it's a non-runner or with problems, make this clear, and advertise it as 'spares or repair'.
If you're not keen to deal with strangers on your doorstep, you could send your car to an auction. You're unlikely to get top money, but it should return a 'trade' rate, and could save you a lot of time and effort. Don't use any services which claim to buy 'any car', however: you're very unlikely to get anywhere near the real market value. Or if your car is worth little, you could always donate it to a good cause: a growing number of charities are now benefiting from the proceeds of selling or scrapping unwanted vehicles.
Tidy it up
With a newer car, it's worth touching up minor scrapes and scratches, refurbishing alloy wheels and generally smartening it up – but however old and battered the car, it'll sell better if it's clean inside and out. If it's really filthy, invest in valeting – but don't go over the top. Buyers may find a steam-cleaned engine bay suspicious, for example – what are you hiding? Remove all personal items, stickers and decorations.
A new MoT will reassure buyers, as will evidence of a recent service. Prepare all the paperwork, old MoT certificates, receipts and bills, and search out all the spare keys, alloy wheel tools, stereo codes, instruction manuals and anything else useful to the new owner.
Do the deal
Research prices to make sure you know what your car is really worth. Make sure anyone test-driving has the right car insurance, and don't leave them alone in it with the keys. When you agree a price, write it down, along with an agreement that the car is 'sold as seen'; both you and the buyer should sign this. Direct transfers and CHAPS payments are the safest way to receive money; if paid by cheque or banker's draft, wait until the money has cleared before releasing the car and its keys.