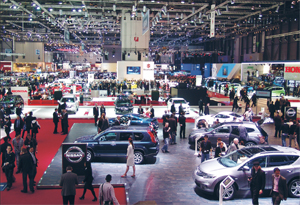 There were plenty of shocks and the hard 'cell' at Europe's most significant auto expo, as electric and fuel cell technology came to the fore; but unlike last year, there was also a proud showing of 4x4s
Words & photos: Phil Weeden
On the way home the other day, I gassed up the company Discovery Td5 at a cost of £110. At the weekend, I then jumped on a train to Newcastle, the ticket for which cost £88 return. So the £73 I paid for the return flight to Geneva seems like a bargain by comparison. And for that you get to the Swiss city and back in one day; and once at the airport you're just a five-minute walk to Palexpo, where the 81st Geneva Motor Show was staged from the beginning of March. It's the most important show to the European car industry and everyone pulls out the stops to show their company is on the up.
Compared with 2009 and 2010, there appeared to be greater confidence, and the re-emergence from the shadows of 4x4s, after a couple of years hiding behind polished displays of hybrid city compacts. Nissan, for example, had none of its SUVs on show in 2010 during press day, but this year had X-Trail, Qashqai and the latest Murano on display, while Mercedes also had a dedicated display of its off-roaders, including the mighty new G-Class.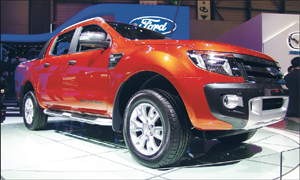 There was also the return of Jeep after a couple of years of deep uncertainty. That vagueness hasn't yet disappeared altogether, but it's clear the company has a renewed vigour with fresh plans and new models – just the job as the iconic US brand prepares for its 70th birthday. These plans include the new Grand Cherokee, a refreshed Wrangler and revised Compass.
Land Rover revealed its new green Range Rover concept as well as prices for the Evoque, which will start at just over 33,600 Euros for the five door and 1000 Euros more for the coupe. Sterling prices will be roughly the same when it hits UK showrooms in the summer. Land Rover also confirmed that it intends to assemble Freelanders in India from later this year. The new factory will only produce around 2000 units annually to start with, but it signals the company's intent to break into new, growing markets. In addition, Jaguar-Land Rover is in talks with production partners for China. All these new developments are good news for the British plants as well, from where many of the components will be made.
If you have ever considered visiting the Geneva Motor Show, then we recommend you do so. It's a very easy trip to make by road or air and you'll be treated to a delightfully compact and yet comprehensive car show that comes with all the glitz and glamour you'd expect. Visit www.salon-auto.ch for information.
PICTURED ABOVE: Ford Ranger Wildtrak