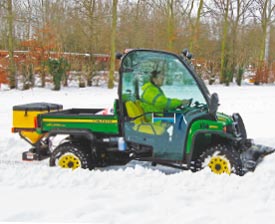 A new full-spec John Deere XUV Gator utility vehicle has joined the Humber Bridge Board's maintenance fleet, and was recently helping to keep the bridge and surrounding areas clear of snow and ice.
For winter work the road homologated four-wheel drive Gator is fitted with a rearmounted spreader and a front-mounted V-shaped snow blade. The spreader uses urea prills to avoid the corrosion than can be caused by normal salt-based grit.
"The Gator is our first such vehicle, and it's already proving to be a really fantastic all-round utility machine," says maintenance manager John Williams, who ordered the Gator from local dealer F G Adamson & Son of Swanland, near Hull.
"The spreader, snowblade and tipping loadbed make it ideal for clearing the footpaths and cycle paths across the bridge during the winter. One of the first jobs was to replace all our old gritting bins, many of which would not have been accessible by a more traditional vehicle. We ordered it with a fully enclosed cab, with glass doors and a heater, so it's perfect for winter use.
"In the summer it will be used as a grounds maintenance vehicle. We can take the doors off which makes it even more versatile. It's a super bit of kit and we're very happy with it."