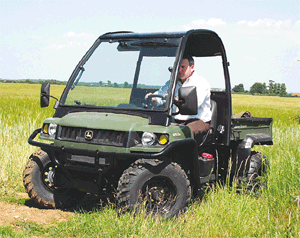 John Deere has introduced a new version of its XUV 850D high performance 4×4 utility vehicle, in olive and black livery.
This model is aimed at customers who prefer an alternative to the usual bright green and yellow colour scheme, including shooting and countryside estates and farms, outdoor adventure centres and wildlife parks.
This Gator is fitted as standard with aggressive tread, off-road style tyres, but otherwise is the same spec as the existing XUV model. It is available with the same attachments and options and the standard four-post ROPS frame can be upgraded to a deluxe full glass cab.
It also offers a true four-wheel drive traction system which incorporates lockable front and rear diffs. The XUV Gator's 24hp (850cc) liquid-cooled, three-cylinder Yanmar hits a top speed at 30mph in high range. Base UK list price of the new model, available in limited numbers before full production starts in November, is £11,033 plus VAT.