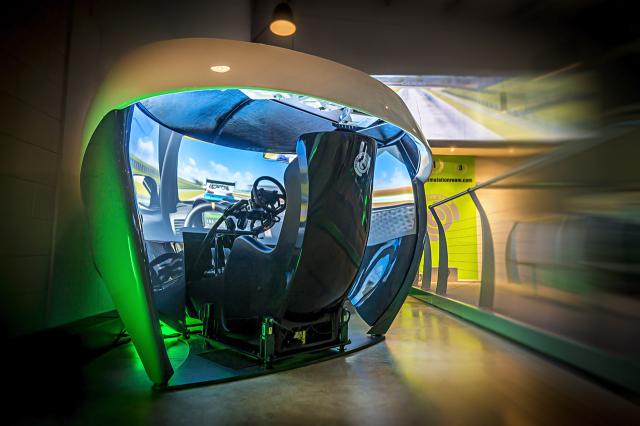 A new facility – the first of its kind in the UK – is now open on the Slough Trading Estate in Berkshire – offering a unique racing car driving simulator experience.
It will offer individuals, groups and corporate guests, a unique opportunity to get behind the wheel of a range of racing cars, in fully professional simulators' that are guaranteed to deliver the ultimate thrill.
Totally different from any existing simulation centre, Motion Simulation Room will offer six professional full motion TL3 simulators, each generating up to 2G of acceleration and offering life-like movement across 3 axis of heave, pitch and roll. Coupled with the world's first 200` degree wrap around spherical screen, delivering astonishing visuals from a 6 million pixel image – the driving experience is unbelievably realistic and immersive.
At the press of a button the driving position can be altered from a Formula 1, to a GT or road car. The TL3 simulators, already used by top race teams, feature professional race pedals and controls, and full force-back steering.
Drivers can experience the world's most famous race circuits, and there will be a variety of sessions available to suit driver experience and ability. You can race on your own, or against friends.
Prices start from £15 for short practise sessions and the minimum height requirement to safely operate the simulators is 150cm/4'11".