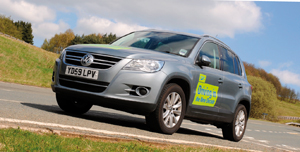 It's not surprising that, with pump prices now at over £1.20 per litre in the UK, we're all mindful of fuel costs, writes Phil Weeden. Even diesel off-roaders are only capable of mid to high-30s, and there's no doubt the pressure to improve our green credentials continues to bear down on us.
So while we await the next big 'green' invention, we can all do our bit by moderating our driving style, at least when we're on tarmac, and in doing so save some money and reduce our CO2 emissions. Those were claims made by the bofins at BP Ultimate who recently challenged 4×4 to a test at the world famous Millbrook Proving Ground in Bedfordshire.
The challenge was to take a 2.0-litre turbodiesel VW Tiguan round three different circuits over a distance of around nine and a half miles, and the results of the driving would be recorded by telemetry equipment and then compared with driving guru, Anthony Sale.
The first route was the city course – tight twisty roads with a few STOP lines at which you had to come to a complete halt as if to simulate stop-start urban motoring. Then it was up to the Alpine route; with its flowing corners and steep inclines it would be a sure test of smooth driving and selecting the right gear at the right time. Finally, the speed bowl was driven to simulate motorway driving.
The lessons are simple: it's not purely about driving slowly. It's about anticipating the road ahead to ensure you make smooth progress and maintain momentum, thereby avoiding too much braking and acceleration.
And when you do need to prod the right pedal, do so as if there is an egg under your foot. There's also an optimum rev range to keep these modern diesel engines spinning so they're performing at their most efficient.
Usually that's between 2000 and 2500rpm. In those mixed conditions, 37.43mpg was achieved, compared with Anthony's 44.86mpg, so not too disgraceful. Compare that over 15,000 miles, however, and the latter figure would have saved over £360 and almost 800kg of CO2. Visit www.great-cars. co.uk to see the video online.