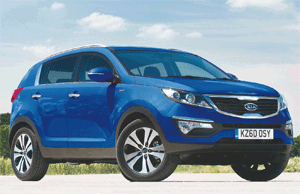 The world-renowned German certification agency TUV Nord has awarded the all-new Kia Sportage its highest environmental certificate.
Following a rigorous assessment of all environmental aspects, from production to day-to- day running through to recycling, TUV Nord certified that the new crossover complies with the strict environmental standards of the ISO 14040 life cycle assessment.
The new Sportage is produced in Kia's European factory in Zilina, Slovakia. The factory was certified according to the ISO 14001 life cycle assessment standards in 2007 and was granted a certificate as an environmentally-friendly production facility.
Sun-Young Kim, President of Kia Motors Europe commented: "Our Research & Development centres have comprehensive expertise in the fi eld of environmentally friendly technologies, and our modern car manufacturing plants work to the highest eco standards. We will continue to use these strengths to ensure that our cars become more eco-friendly from generation to generation."
Environmentally relevant improvements to the Sportage include the significant reduction of the vehicle's weight. Although the new vehicle has increased in length to 4.44 metres (an increase of 9cm) the weight has been reduced by between 87 and 160 kilograms depending on specification.
Meanwhile, customers have swamped Kia dealers to lay hands on the 850 Sportage First Edition 2.0 CRDi AWD, but some were insistent on a petrol alternative.
So to satisfy that demand, and ahead of the full-range going on sale later in the year, additional factory production has been secured for 300 petrol-engined versions.
The Sportage First Edition 2.0 AWD is powered by Kia's Theta-II 2.0 petrol engine and comes with a fi ve-speed manual transmission delivering 161bh at 5200rpm and 143lb ft torque at 4600rpm. The vehicle has a top speed of 113mph, accelerates to 60mph in 10.3 seconds and achieves a combined cycle fuel consumption of 35.8mpg; CO2 emissions are quoted at 188g/km.
This new version of the Sportage comes with the same level of specification as its diesel counterpart, which includes black leather upholstery, 18in alloys, LED daytime running lights and a colour rear parking camera system integrated into the rear view mirror. New Sportage First Edition 2.0 AWD is priced at £19,495 OTR. The full new Sportage line-up will available later in the year.