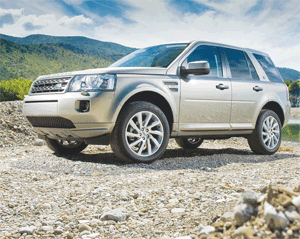 The 2011 Freelander 2, on sale in the UK from the end of September, benefits from a new 2.2-litre diesel engine available with either 148bhp or 187bhp outputs, a new look exterior plus interior alterations and a new Premium Pack option.
Land Rover's new turbo-diesel engine is available in the 4WD Td4 148bhp model featuring manual transmission and intelligent Stop/Start technology as standard (an auto 'box without Stop/Start is available as a cost option), or the new SD4 model delivering 187bhp (available in auto only).
This new engine is quieter, more efficient and both derivatives have 15lb ft more torque. This means the 2011 Freelander 2 should offer improved engine response and more mid-range strength for towing. CO2 emissions have been reduced to 165g/km and 185g/km respectively with corresponding fuel economy benefits.
The exterior of the latest Freelander 2 gets a new look, including new 18 or 19in alloys. The interior also has a revamp with new seat styles and the option of a Premium Pack. Prices range from £21,695 to £35,510 with auto transmission available as an £1515 option.