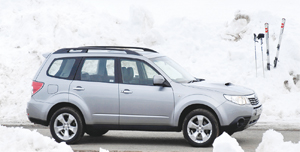 Rounding off an impressive year of accolades for Subaru, the Forester has been awarded the title of 'Crossover of the year 2010' by 4×4 Plus Magazine, the largest specialist title in Belgium.
The awards – running since 1993 – are decided exclusively by a panel of professional judges. The 'Crossover' category was added in 2009 in response to changes in the market and to prevent possible confusion with the larger vehicles classified as belonging to that category.
This title was awarded after the judges highlighted reduced emissions, efficiency and value for money. The Forester was praised for its safety, handling and functionality. The panel also supported Subaru's core philosophy that permanent all-wheel drive system does offer significant safety benefits, against a strictly marginal fuel consumption increase compared to two-wheel drive vehicles. It pointed out that the fuel consumption difference measured between four-wheel and two-wheel drive vehicles was by far lower than commonly assumed.
Subaru is also in the news as, apart from refusing to pass the recent VAT hike onto most of its customers, it is also coffering buyers a choice of free lifestyle-specific accessory packs, each worth over £500.
There are six packs available, and one is free-of-charge with each new Forester, Legacy Tourer or Outback. The packs are:
Dog Pack – includes dog guard, waterproof cargo tray and rear bumper protector
Towing Pack – towbar, rear bumper protector and caravan electrics
Winter Pack – rear bumper protector, rubber carpet mats, front and rear mudguards
Touring Pack – high visibility emergency pack, aluminium roof bars, cargo area rails and partition
Cycle Pack – aluminium roof bars, rear bumper protector, pair of bicycle holders
Ski Pack – aluminium roof bars & ski carriers, waterproof cargo tray, waterproof front seat covers
Subaru UK Marketing Director, Kenyon Neads, commented: "We also understand how many people utilise our vehicles as part of busy active lifestyles. Whatever your passion, we've got a vehicle and complementary accessory pack to meet your needs."
The offer, along with Subaru's VAT freeze, is valid until 31 March 2011, so get ordering now. Visit www.subaru.co.uk for more information.