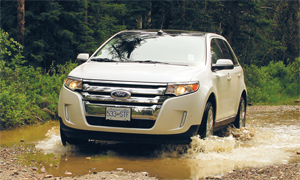 WE HAVE OFTEN MENTIONED our disappointment at the loss from the UK market of the Ford Explorer, and even the rebadged Nissan, the Maverick. The very latest Ranger pick-up is an impressive machine, so it's not as if the company has ignored the world of 4×4. Indeed, in the States, the Escape is a massive seller, then there's the premium Edge model, which sells well globally… just not in Europe and certainly not in the UK. Good news then from the Paris Motor Show in September, that there is actually a plan to bring 4×4 models back to Europe. It's just not going to happen overnight…
Developed and built in South America, the new small SUV EcoSport pictured here. Nothing immediately to get excited about perhaps, as this will be a soft roader SUV, complete with Electronic Stability Control and Hill Launch Assist. What is more technologically interesting, however, is the EcoBoost power unit. A mere 1-litre capacity, this is a turbocharged petrol unit that produces 125bhp and an impressive 170Nm torque, has a combined fuel consumption of 56.5mpg and a CO2 emissions figure of 114g/km. The cylinder block can fit on to a sheet of A4 paper – now that's compact! The company says it is 'the highest power density of any Ford engine', and has just been awarded International Engine of the Year. Now before you rush out to order one, according to Ford: 'the all-new EcoSport will go on sale within 18 months as part of the expansion of Ford's SUV range that will also include the all-new version of the Kuga and, in the next few years, the Ford Edge'. So there's apparently no rush.
Indeed, it is a shame that we will have to wait so long for the Ford Edge. We recently drove one in Canada, on a trip through the Rockies, and will be reporting in a future issue. It's a competent, well-built and enjoyable SUV, and it would fit into the UK market today. What that market will be like in 'a few years' time', no one knows and you wonder if it will then struggle to be competitive.