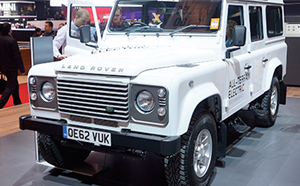 The first significant motor show of the year saw 4×4 manufacturers provide a few surprises, but will any of the concepts make it to series production?
FOR A COUNTRY not really known for its motor industry, where the most significant vehicles are probably the expensive ones parked in security lock-ups of their rich owners, in their tax-efficient second or third homes, it has always been odd that the Geneva Motor Show should have such a significance. In truth it's probably more about timing than location, as we all hope that the winter months are now behind us and we can look forward to the coming year with enthusiasm.
This year's Geneva Motor Show had some significant, ostentatious and ludicrously priced (and named) supercars from the usual suspects, Ferrari and Lamborghini. These claimed most of the headlines, but once again Jaguar Land Rover managed to create something of a stir, and we don't mean from yet another 'special edition' Range Rover Evoque, but from the venerable Defender. It's almost as though the reaction to the concept 'replacement' DC100 has been so vicious that the company decided to attempt to convince the 4×4 market that the Defender isn't quite dead yet. How do you do that? By plugging it in at the mains and giving it a massive shock to revive the old beast, it seems.
Land Rover's Global Brand Director John Edwards, spoke of "continuing to champion British innovation and cutting-edge automotive engineering" as he unveiled seven (!) new electric Defender models. Now it must be a few years since even the most ardent Defender fan has claimed the vehicle to be 'cutting-edge' but this is indeed an interesting development for JLR. The 110 on display had its standard diesel engine replaced by a 70kW (94bhp), 330Nm (243lb ft) electric motor twinned with a 300volt, lithium-ion battery. The Defender has its usual four-wheel drive system and diff lock, but because the electric motor actually produces maximum torque immediately, there's no need for a gearbox and so the transmission is actually a single-speed 2.7:1 reduction gearbox. Engineers have also incorporated a modified version of Land Rover's Terrain Response system.
Testing seems to have been quite extensive with the engineering team claiming that the electric Defender is able to pull a 12-tonne road train up a 13 per cent gradient, and wading to a depth of 800mm – presumably there being some significant issues when putting an electric motor with seats and passengers attached, into water…
Weight is always an issue with electric vehicles, but in the case of the Defender the 410kg battery replacing the diesel engine adds only 100kg to the vehicle's overall weight – which varies from 2055kg to 2162kg depending on model. Such a system has its bonuses as well, and the Defender's Hill Descent System can actually generate 30kW of electricity. Indeed up to 80 per cent of the kinetic energy in the vehicle can be recovered, depending on conditions.
The downsides? Well, according to the engineers the electric Defender has a range of 'more than 50 miles'. Presumably not many more than 50, or they would have said. Off-road the Defender and you'll need to plug the extension lead in after eight hours. On a fast charge, the Defender can be ready to go again after four hours, or with a portable 3kW charger, after 10 hours.
There are no plans to put the electric Defender into production, but the seven models shown in Geneva are now about to enter 'real world trials'. An impressive and interesting project, which shows that JLR is taking the idea of an electric off-roader seriously. You have to question, however, whether it is ever likely to be a production electric Defender. Of course, after all the flak the company has taken in the last 12 months about the replacement Defender, putting seven shiny new experimental models on show in Geneva this year was a particularly inspired piece of marketing.
Back in the real world of serious production vehicles, JLR also announced the new nine-speed gearbox, which is to be fitted first to the Evoque. This is a clever and highly sophisticated unit and we have a full detailed technical description on page 68 of the May 2013 issue of 4×4 Magazine.