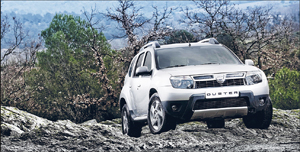 Ahead of Dacia's UK launch at the end of next year, right-hand drive production of the Duster SUV has been confirmed, thanks to its imminent arrival in India.
Renault has announced the production and sale of Duster under its French marque in India. The SUV is part of a range designed to cover a broad portion of the local market segments.
Produced at the Chennai plant, Duster has been adapted to conditions in the Indian market. To satisfy Indian consumers and their strong expectations in terms of value for money and technological content, specific adaptations have been made to the product.