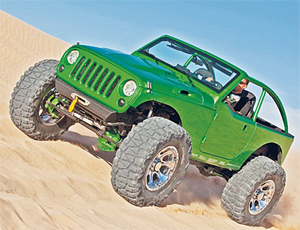 Mini monster truck meets crazy Californian hot rod? Whatever the influences, you cannot miss the latest lurid green Jeep from American Kenny Hauk's design studio. Outrageous and possibly not to everyone's taste, you'd love the chance to scream Dune Raider up a sand dune or two, wouldn't you?
These American 4×4 custom creations may be mighty loud, arrogant and unnecessary, but they are also well built with impressive specification. The Hauk Dune Raider has a 5.7-litre Chrysler Hemi VVT engine that thumps over 400bhp, and 360lb ft torque. The Wrangler's been stripped somewhat as well to lighten it, and uses aluminium panels, or 'Body Armor' (sic) as it says on the spec sheet. Front and rear Dana 60 axles with alloy shafts and locking diffs, Teraflex high lift suspension, 20in Raceline bespoke performance wheels with massive Toyo Open Country MT tyres complete the important stuff.
Then it all gets a bit OTT and you wonder what things like solid billet door handles, powder-coated black (of online pokie course) add to this machine's abilities. And then, if the 5.7-litre engine doesn't quite cut it for you… Hauk offers a 7.2-litre Hemi unit with a claimed sand-blasting 636bhp. Absolutely outrageous, and we just love it!