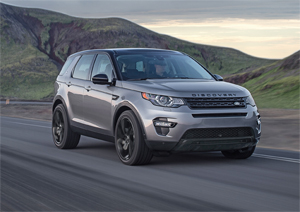 The first Discovery was unveiled some 25 years ago. This new version is a very different beast, and the start of a whole new family of vehicles.
Words: Nigel Fryatt Photography: Land Rover
To quote English novelist L. P. Hartley, 'the past is a foreign country: they do things differently there.' Back in 1989, the Land Rover Discovery was unveiled to critical acclaim both for its exterior looks and its radical Terence Conran designed interior. It was a major new model for the company, starting a whole new model range, and that despite it being something of a 'bitza' product, strongly linked to the Range Rover but with other parts from the then British Leyland empire, including the Sherpa commercial van and even the now much maligned Austin Maestro. Remember them? As Hartley said, they certainly did things 'differently' back then.
When we got our first details of the new Discovery Sport, in the 31 pages of comprehensive information in the press pack that accompanied the excellent photographs of the new vehicle, there was no mention of the 1989 Land Rover Discovery: not a single word.
For a company that has built an unmatched global reputation based on its 4×4 heritage that is perhaps surprising, until you remember that this vehicle is not a Land Rover Discovery, it is the first of a completely new family of Discovery models, and it is so very, very different to the much loved original.
As we have previously mentioned when detailing the Discovery Concept, a quick glance of the photographs of the new model and it's easy to think it is just too much like the new Range Rover, especially in Sport mode. We would advise you wait until they begin to appear on the UK roads (from January 2015) before you pass judgement. When up close and personal with the Concept vehicle, the heritage of the last Discovery 4 is all too evident. You can see it in these photographs if you look carefully; it is a very clever and sophisticated design.
BUY THE NOVEMBER 2014 ISSUE OF 4X4 MAGAZINE TO READ MORE! Buy it here