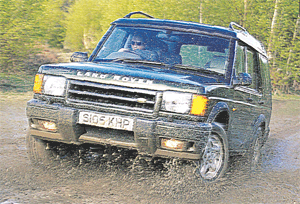 Unichip Europe has announced a new 'Sport Conversion' upgrade package for the 2.5 litre, five cylinder Td5 Discovery, designed to transform both the vehicle's on-road acceleration and off-road performance. Central to the conversion is a brand new, advanced specification Owen Developments Garrett turbocharger, allied to a specially mapped Unichip 'U-Connect' supplementary engine management system.
Designed as a like-for-like swap with the original Td5 turbocharger, the totally brand new Owen Developments Garrett unit enables the 2.5-litre, five cylinder engine to produce signi cant power and torque increases without mechanical strain or turbo lag.
The other crucial component is a 'U-Connect' plug and play Unichip ECU, designed and developed specifically for the Td5. The Unichip ECU map is the end result of months of dyno and road testing, towing and off-road assessment to ensure optimised settings and reliability.
Dyno testing has shown that power increases from a tested 127bhp at 3776rpm as standard, to 176bhp at 4000rpm, and peak torque increases from 217lbft at 2919rpm to 279 lb ft at 2957rpm, equating to a 63lb ft gain.