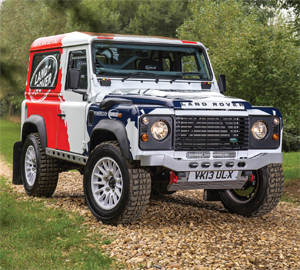 An exciting new rally car was unveiled at this year's Autosport International motor racing show in January. Bowler Motorsport is building the new Defender Challenge car, which will be available to enter a one-make rally championship over the coming year, aimed to be the ideal feeder series to get people up to the standard where entry into the Dakar Rally can be more than just a pipe dream.
The modified Defender 90 hardtop is powered by an uprated version of the 2.2-litre diesel engine, developing 170bhp and 450Nm, mated to a six-speed transmission. It remains road legal, but has the necessary safety equipment fitted including roll bar, and fire extinguisher system and comes with all the necessary Motor Sports Association paperwork and log book, making it ready to race.
The Defender's suspension has been upgraded to meet the demands of high-speed competition with the help of Bilstein (more details in Products on page 14). The vehicle's bodywork has a Bowler Motorsport body kit to accommodate the lightweight 18inch wheels. A Bowler Defender Challenge vehicle costs £50,000 (plus VAT), and there is a £10,000 entry fee to the championship. Bowler also offers a servicing and logistical package that would allow an owner driver just to turn up and race, and not need your own support team behind you.
At the Autosport show in January, Jon Chester, Brand Director at Bowler, commented: "Since we announced the 'Defender Challenge by Bowler' series at the end of October, the response has been amazing. The grid of 15 competitor cars for 2014 is already more than half full. The championship has attracted a wide range of competitors, from those with no prior racing experience, to existing rally teams and those with GT3 racing experience. It'll be a really fun championship and we look forward to working with and supporting all of the entrants."
The first round of the championship will be at the Mid Wales Stages Rally, which takes place around Newtown in Wales on 2nd March. A full report on this year's Dakar Rally starts on page 70 of the March 2014 issue.
Buy the latest issue here