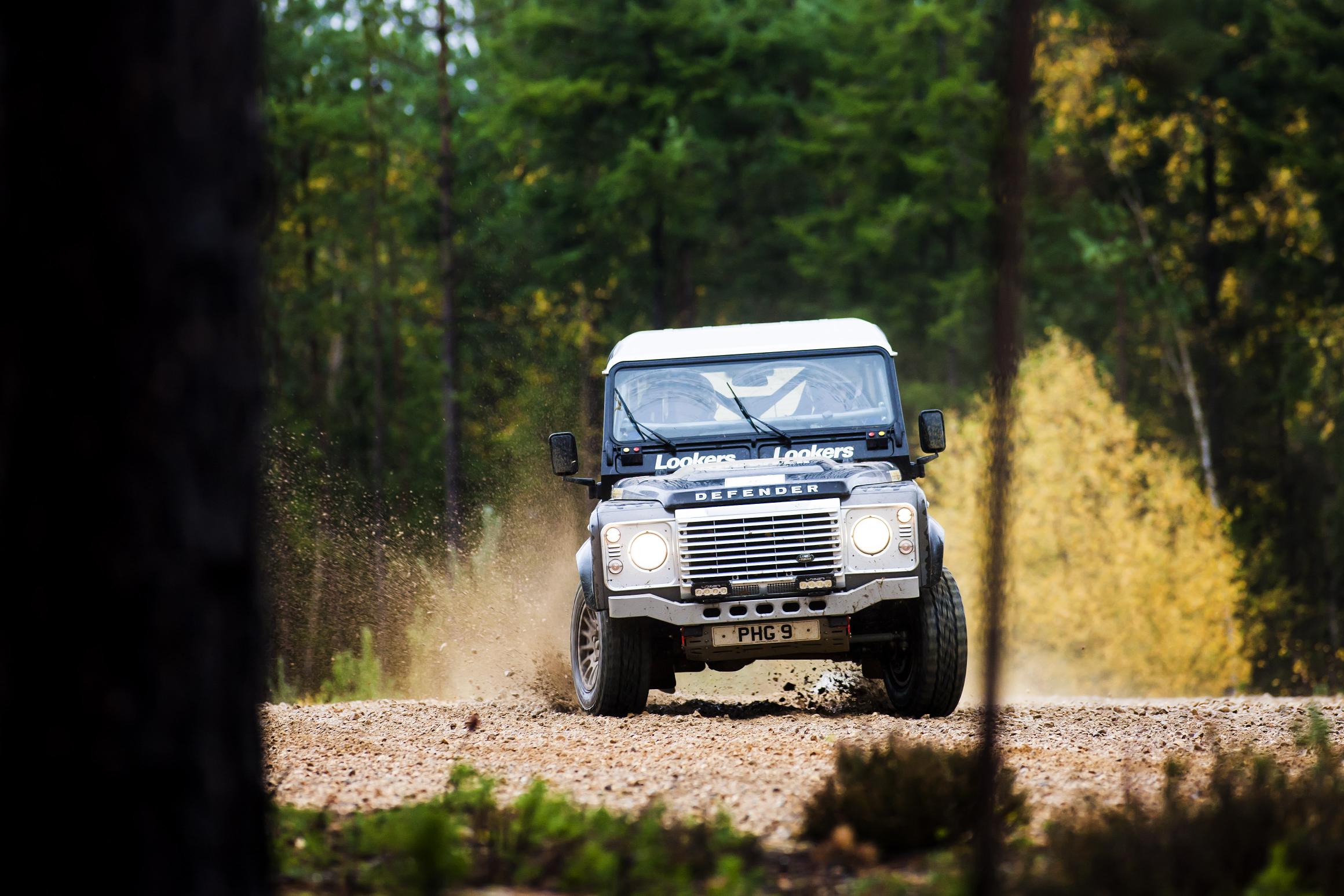 10 modified Defender 90s took on 10 stages across former M.O.D. moorland against a backdrop of high winds and rain in the penultimate round of the 2015 season. Fuelled by an appetite to secure precious points ahead of the final round of the series, drivers and co-drivers readied themselves for the challenging conditions ahead.
Continuing with their winning streak, Sturgess Land Rover driver Edd Cobley and co-driver John Tomley delivered a strong performance at each stage finishing 1st in the Defender Challenge and 7th in the event overall. Cobley and Tomley finished just over a minute slower than Richard Barrow in his Subaru Impreza and over 2 minutes ahead of Darren James in his Mitsubishi Evo 9 demonstrating the suitability of the adverse weather conditions and harsh terrain to the Defender.
During first service Cobley commented, "The off-road sections are perfect for the Defender, there are deep ruts which help us manoeuvre the Defender across the track. It's incredibly slippery through the wooded sections so it's important to keep focussed." By the end of the rally Cobley and Tomley achieved a good gap ahead of second placed Lookers Land Rover's Gareth Curruthers and Wallace McKay, clocking in 1 minute 20 seconds ahead.
The battle for third position was so close that after the first stage only two seconds separated The Defenderists, Brian Palmer and Northern Ireland Racing. Palmer slipped into third position ahead of The Defenderists after stage two and held it until stage seven when The Defenderists' driver Paul Mansfield and co-driver Richard Mills took it back having completed the stage a second faster, inching ahead by the smallest of margins.
In stage nine, Northern Ireland Racing found extra pace completing the stage in the same time as The Defenderists at just 48 minutes and 37 seconds and moving them up the leader board a place to fourth position between The Defenderists in third and Palmer in fifth.
Northern Ireland Racing's David Johnston and Joseph Monaghan continued to find time in stage 10 and moved into third place securing the coveted spot for both the stage and the round. Having competed neck-to-neck throughout the rally, the overall times showed only seconds between places three, four and five. Just two seconds behind Northern Ireland Racing were The Defenderists who finished in fourth and Brian Palmer and his co-driver Callum McPhail in fifth six seconds behind that.
As round five closed, debate over the next and final round ensued. The Borders Rally in Dumfries is renowned for its challenging, undulating terrain and night stages, and with the appetite for third position well and truly whetted, the top teams have just two weeks before the final rally of the 2015 Defender Challenge to prepare.
The Borders Hill Rally takes place on Saturday 21st and Sunday 22nd November at the Forrest Estate, Dumfries. For more information see scottish-hillrally.co.uk