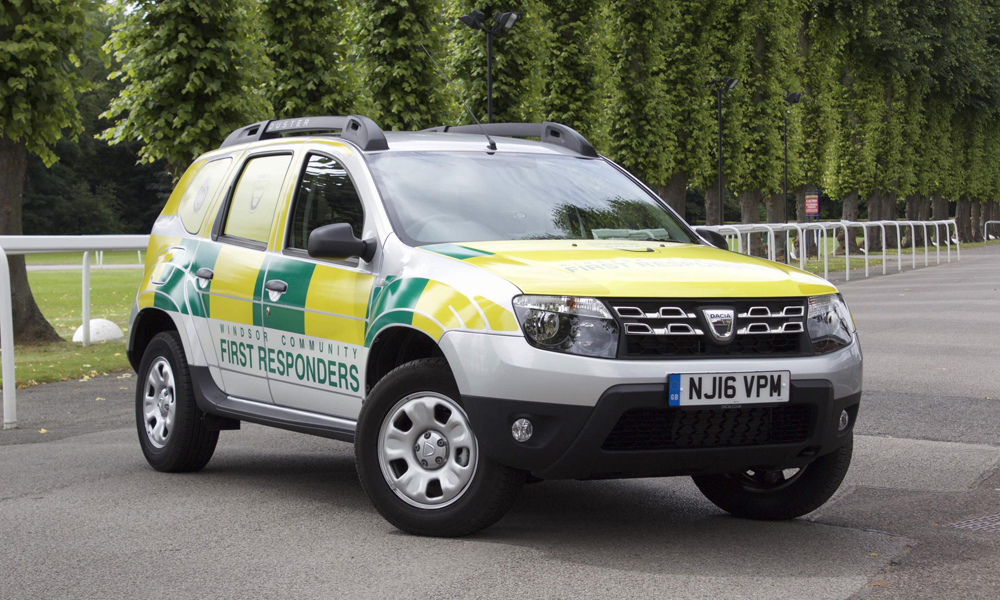 A Dacia Duster is coming to the aid of people requiring emergency medical attention following a new partnership with the Windsor Community First Responders.
Dacia has loaned the Windsor branch of Community First Responders a Duster 4×4 for the use of its volunteers in their invaluable work in assisting the Ambulance Service and providing potentially life-saving treatment to those in need of urgent medical assistance.
Trained by the South Central Ambulance Service NHS Foundation Trust and re-qualified every six months, Windsor Community First Responders provide a rapid response to many 999 calls where an ambulance has been requested by people in their region. The locality of its volunteers means that they can often arrive at an incident before an ambulance and administer essential pre-hospital treatment.
Working on a rota basis and 'on-call' 24 hours a day, 365 days a year, Windsor Community First Responders will specifically use the Duster as a Dynamic Response Vehicle (DRV) to assist people who have suffered medical emergencies that include unconsciousness, chest pain, stroke or breathing difficulties. The 4×4 capability of the Duster ensures that the crew can reach patients that are in hard-to-access and remote rural areas, as well as those that have been taken ill in the street, at home or at their work place.
The Duster's spacious interior easily accommodates the crew of up to three volunteers and the essential equipment that is needed for callouts, which includes a defibrillator, oxygen, masks, bandages, Entonox and other medical supplies.
The multiple award-winning Duster is the most affordable SUV on the UK market – priced from £9,495. Duster is available in a choice of five trim levels, with customers able to choose from 1.6 SCe 115 and 1.2 TCe 125 petrol engines or the 1.5 dCi diesel engine. All Duster versions are available in 4×2 or 4×4 set-ups.