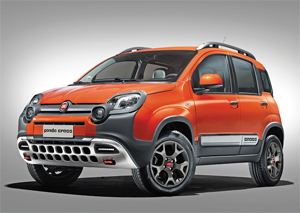 Regular readers will know that we seriously rate the little Fiat Panda 4×4, it won our small SUV class in our 2014 4×4 Of The Year, and it did so with enthusiasm and certainly without any allowances having to be made. Make no mistake, the Panda 4×4 is small, agile and pretty tough. And now it's just got tougher.
The Fiat Panda 4×4 Cross is certainly no shrinking violet. Of course, for a lot of hoary ol' off-roaders all this flash plastic adornment is the antithesis of a serious 4×4. Here at this magazine, we tend to be a broader church and take the secular approach. It looks fun to us, and has some interesting technical improvements, which should actually increase its already impressive off-road abilities. The new Panda 4×4 Cross has a new Terrain Control selector to offer the driver three different modes. It also has improved approach (up 3degs to 24deg) and departure (up one degree to 33deg) angles, with a break over angle of 20deg. It also has a larger wheel and tyre option, when compared to the Panda 4×4, the Cross now being fitted with 185/65R15 tyres.
As with the standard Panda 4×4, the engine options are the 1.3 MultiJet II and the – ridiculously sounding – 0.9 TwinAir Turbo. It's good to see that the little turbo engine gets an extra 5bhp, raising limits to 90bhp, but torque remains the same at 145Nm. This is, however, one of those engines where the power figures actually hide a very clever unit that surprises in its eager ability to deliver. While it might sound like a demented lawnmower with a few loose nuts and bolts, it is a great unit both on and off the road.
The first Panda 4×4 was introduced in 1983, and since then a staggering 500,000 have been registered, of which 26,300 are the new model. It's to Fiat's credit that the company has kept the brand going, and the latest Panda 4×4 Cross is surely likely to add to those numbers. The model is not going to be available here until the autumn and the final UK specification and prices have yet to be announced.