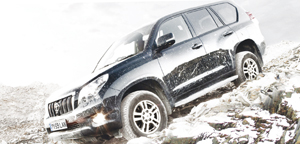 Sales of both Land Cruiser and Land Cruiser V8 are up 77 per cent and 120 per cent respectively over the same period from last year. Celebrating its 60th anniversary in 2011 the Land Cruiser has seen six million units sold since launch.
In the UK, the Land Cruiser is available in three grades, using a 3.0-litre D-4D diesel engine, five-speed auto transmission and includes Multi-Terrain Select system, Crawl Control and Multi-Terrain Monitors. The Land Cruiser V8 uses a 4.5-litre D-4D providing 282bhp through a six-speed auto transmission with sequential manual gear change. Available in one spec, features also include multi-terrain ABS optimising brake control to suit driving conditions, the world's first four-wheel Active height Control and
Adaptive Variable Suspension.