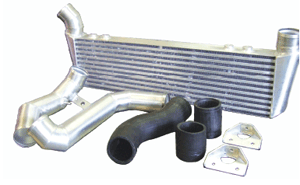 This is MJS Fabrication's new intercooler for the Nissan Navara D40 and Pathfinder range. The unit fits onto the existing 2.5 DCi powerplant and enhances throttle response by cooling the engine more efficiently.
MJS has tested the component on a customer's vehicle and found that it improves 0-60mph acceleration by around two seconds. It delivers a 15-degree drop in temperature – bringing substantial benefits to the engine and driver.
The intercooler is priced at £445 and more details are available by calling MJS Fabrication on 01621 850431.