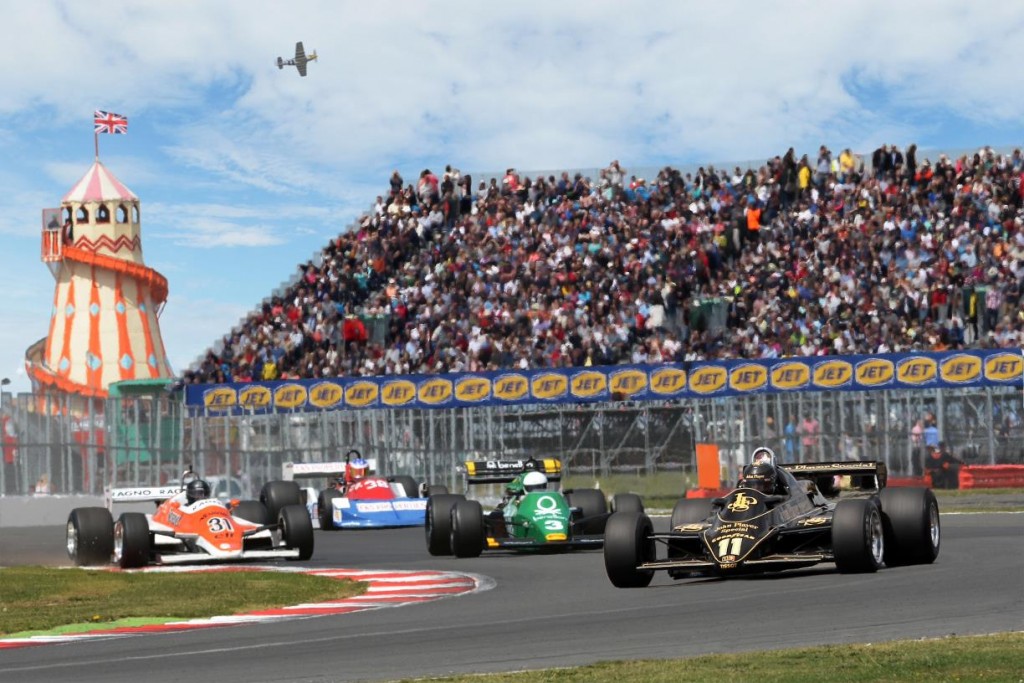 Coveted tickets to the world's biggest classic motor racing festival are a great way to spoil dads on Father's Day, fast approaching on Sunday 19 June.
Moreover, as this summer's Silverstone Classic (29-31 July) offers unrivalled entertainment for all ages – and a new Family Ticket option – the entire family can join in the high-speed thrills and spills, making what is already an unforgettable Father's Day gift all the more special.
No matter what his particular interest, any action-loving dad will be blown away by a visit to the dazzling Silverstone Classic for an amazing flat-out trip down memory lane. Across three full days of non-stop entertainment, there will be a glittering array of attractions and activities, headed by a glorious line-up of unmissable races on the famous Silverstone Grand Prix circuit. These feature many of the world's rarest, most spectacular and valuable racing cars from past golden eras.
Ranging from the evocative racers of the 1930s to the high-tech machines from the 1990s, the stellar race card will deliver some of the most eye-catching grids ever seen in Great Britain covering the history of Formula 1, Le Mans, sports, touring and GT cars.
This year's line-up includes two thundering showdowns for mighty Can-Am cars plus a major tribute to mark the 40th anniversary of James Hunt's F1 world championship-winning campaign in 1976. There will be famous faces, too, with bike heroes Wayne Gardner, 'Fast' Freddie Spencer and multiple sidecar world champ Steve Webster joining a host of legendary riders and drivers from past generations all revving up and adding to the superb nostalgia at Silverstone.
As if that isn't enough to put a huge smile on every dad's face, there will be more than 10,000 classic cars lovingly exhibited on the infield, ranging from awe-inspiring Ferraris and Maseratis to lovable Morgans and MGs. What's more this summer several iconic marques including Lamborghini, Porsche and Viper will be putting on huge displays to celebrate important milestones in their histories.
As has become customary, live music will also be a popular feature over the weekend, with crowd-pleasing concerts on the evenings of both Friday (29 July) and Saturday (30 July) maintaining the fabulous event's 'Rocking and Racing' tradition. Chart-toppers The Boomtown Rats will strut their stuff on Friday, while Saturday's performances are headlined by Reef and The Stranglers. Entry to all these rock concerts is included within the general circuit admission price.
But the entertainment doesn't stop there. A vintage funfair, aerial displays, three auctions, hot air balloon display, helicopter flights, streetcar shoot-outs, 4×4 passenger experiences, spitfire demonstrations, crazy golf, a huge shopping village, an adrenaline ride zone, Car Clinic shows with Mike Brewer and a live Range Rover restoration, both presented by eBay, as well as giant TV screens showing all the on-track action are all part of the most remarkable show of the year.
"The Silverstone Classic is the biggest and best classic motor racing festival in the world as well as one of Europe's most entertaining and action-packed car-themed events," said Nick Wigley, CEO of organisers, Goose Live Events. "There really is something for everyone – that's why a family day out at the Silverstone Classic is the perfect Father's Day gift for any dad with even the smallest drop of high-octane fuel in his veins."
In keeping with the event's widely acclaimed 'access all areas' policy, all tickets include free entrance to both racing paddocks and pit complexes, trackside grandstands and live music concerts on Friday and Saturday evenings. Adult admission is from just £42 and considerable savings are on offer for those festival-goers spending the full weekend at Silverstone. This year there's also a special Family Ticket.
Full details can be found on the official www.silverstoneclassic.com website.