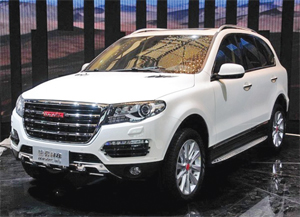 Now, it's highly unusual for a manufacturer to launch a new model onto the market, with all the associated fanfare, only to withdraw it immediately – before any models have hit the streets – and declare that production will be delayed by three months while a number of 'key issues' are sorted! That appears to be the case with Great Wall's newest SUV, the H8, according to a report in the respected China Motor News. And the news raised more than just eyebrows when announced, as shares in the company fell by a reported 10 per cent; Great Wall is a particularly large company, so a 10 per cent drop is a lot of Yuan.
The H8 is the bigger brother model to the particularly successful selling H6 (which we still believe may available in the UK later this year). The H8 is claimed to be a competitor to the Honda CR-V and Ford Kuga, so this is a mainstream model, not a niche product.
The report in the China Motor News also listed the problems that have caused the delay and they included, 'conservative engine with no significant difference between the sport mode and the economy mode'. If that wasn't damning enough, the list also included problems with, 'engine noise, tyre noise, and wind noise', plus there was also 'low steering resistance' and the intriguing 'monotonous pattern of the central console.' To the ear of a potential consumer, both internally in China and more significantly in international markets, these comments will surely be quite significant. Corrections will presumably be made tweaking the vehicle's software and could be quite simple to improve. It seems, however, that while the expansion of China's motor industry is moving at a significant pace, Great Wall at least has realised that to really gain new SUV sales, especially in European markets, a new model cannot be launched that is inferior to the competition. You just wonder why they didn't come to that conclusion before the vehicle had been unveiled to the world!