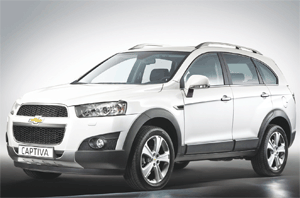 The new Chevrolet Captiva sports a new front end design, a range of enhancements to the interior and new engines and transmissions, as well as new styling and an active on-demand all-wheel drive system that distributes power as needed. It retains the advantages of its theatre-style seating in three rows which accommodates up to seven passengers.
A number of features are immediately noticeable: the re-shaped and sharply sculptured bonnet, a new larger grille, prism style headlamps and integrated LED turn signals on the outside rearview mirrors. There is a new exterior colour palette and accentuated whee-larches which will accommodate wheel sizes of 17 to 19 inches.
Under the bonnet are three new engines that will come as standard with a new manual or automatic six-speed transmission. The new 2.2-litre common rail turbocharged diesel units will be available with either 163 or 184bhp outputs, while the 2.4-litre dual overhead cam petrol unit is rated at 171bhp. A new chassis has been re-tuned to enhance vehicle dynamics, improving cornering, roll characteristics and ride feel. Also included are Electronic Stability Control (ESC), Traction Control System (TCS) and Braking Assist System (BAS) as standard.
The Captiva's upgraded interior now features new finishes and textures, including all-new seat fabrics and interior décor appointments to provide a more up-market feel and look, with ice-blue back lighting and the 'wrap-round' design of the front fascia which flows into the front driver's and passenger doors creating the dual-cockpit look.
Features include Hill Start Assist, eliminating 'roll-back' on hills and an electric park brake that opens up space for further storage in the centre console.
Its launch throughout Europe is scheduled for spring 2011.