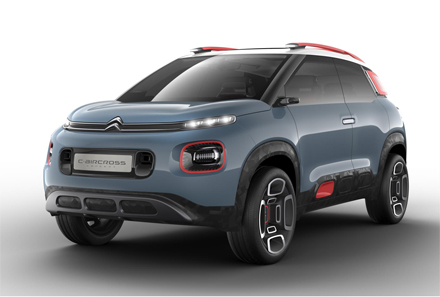 Citroën has revealed a new concept car – C-Aircross Concept.
This interpretation of a compact SUV marks a new stage for Citroën in the deployment of its product strategy. With the C-Aircross Concept's internationally-oriented body style, the Citroën brand confirms its offensive in the SUV market – an offensive that began with the reveal of the Aircross Concept in 2015.
The Citroën C-Aircross Concept's unique identity is inspired by New C3, although clearly adapted for a new sector of the market:
DESIGN– The exterior immediately gives an impression of space on-board. Inside, the use of colour and specially chosen materials creates a modern and relaxed atmosphere, with an overall impression of minimalist style.
COMFORT– A modern SUV, the front doors – and the rear-hinged doors at the back – open to reveal a spacious cabin. The concept offers wide, quilt-effect seats and plenty of light from its large windows and panoramic sunroof. Thanks to the Citroën Advanced Comfort® programme, the concept's technologies serve to enhance ease-of-use.
---
Visit the Citroën stand at the Geneva International Motor Show on Tuesday 7 and Wednesday 8 March (press days) or from Thursday 9 to Sunday 19 March (public days), to see the Citroën C-Aircross Concept make its World Premiere.