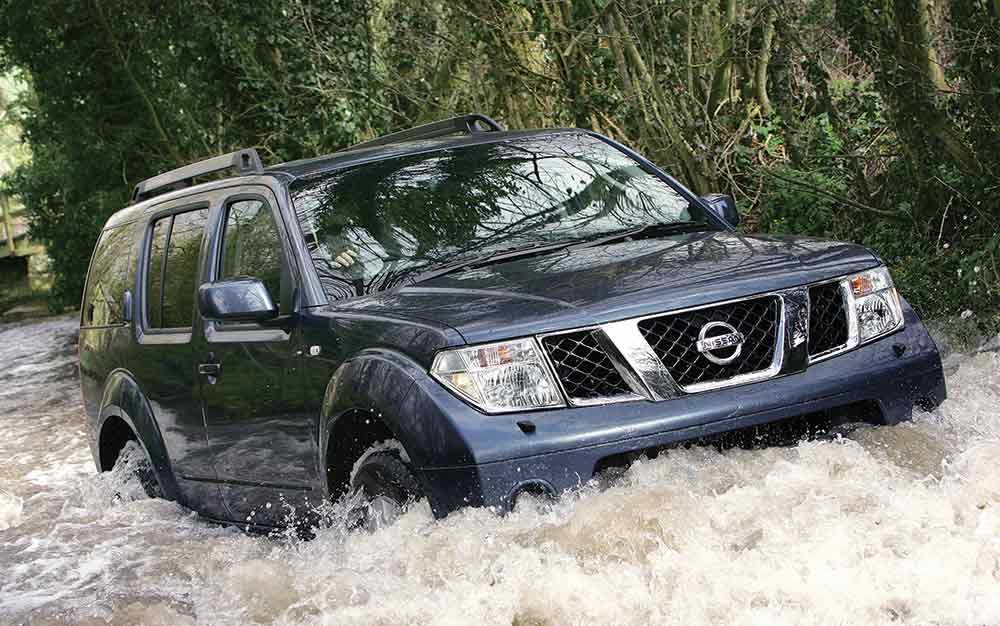 Nissan has recently dropped the Pathfinder from its range in favour of sleeker, more compact urban-styled SUVs – a pity, since the Pathfinder reflected much of Nissan's true Patrol-inspired off-road heritage
TARGET RANGE:  £5000-£25,000
For off-roading enthusiasts like us it's quite difficult to understand how the urban-toy Qashqai became such an instant hit while the remarkably competent and practical Pathfinder never made it to the SUV best-sellers list. Could it simply be that style is the main requirement for a modern 4×4, so the traditional boxy estate design of the Pathfinder relegates it to the category of 'outdated' and therefore undesirable? One of the features we appreciated most about the Pathfinder, which in most versions comes with seven seats, is the way the rear seats fold flat to form a long, wide, van-like cargo area, a class-leading 2.8 metres long, and the front passenger seat similarly folds flat to accommodate even longer loads. In later models, there's also a capacious slide-out underfloor tray under the boot area, which with all seats in place still offers a 190-litre carrying capacity.
To bring the rearmost seats into play a lever on the middle row seats allows them to tumble forwards, allowing the rear chairs to be folded up from the floor. They are rather heavy and access to them rather limited despite the wide-opening doors, so they're best reserved for the use of children or athletic small adults, but there's good legroom, one reservation being that there's not a lot of foot space under the middle row seats. Note that the original base model, the S, did not have the third row of seats, though the later base version, the Trek, did have them.
There's also a slim possibility that some may have shunned the Pathfinder after hearing that it shares its chassis and drive train with the Navara pick-up, suggesting that it's not refined enough to pass muster as a serious premium SUV; consider that the same chassis is used by Nissan's luxury Infiniti division for the full-sized QX56, so there's no lack of refinement from the all-independent coil-sprung suspension and the 2.5-litre dCi turbodiesel, which was also used in the Murano, but in any case for ultimate premium performance and  refinement there's always the smooth-revving 4.0-litre petrol V6 version.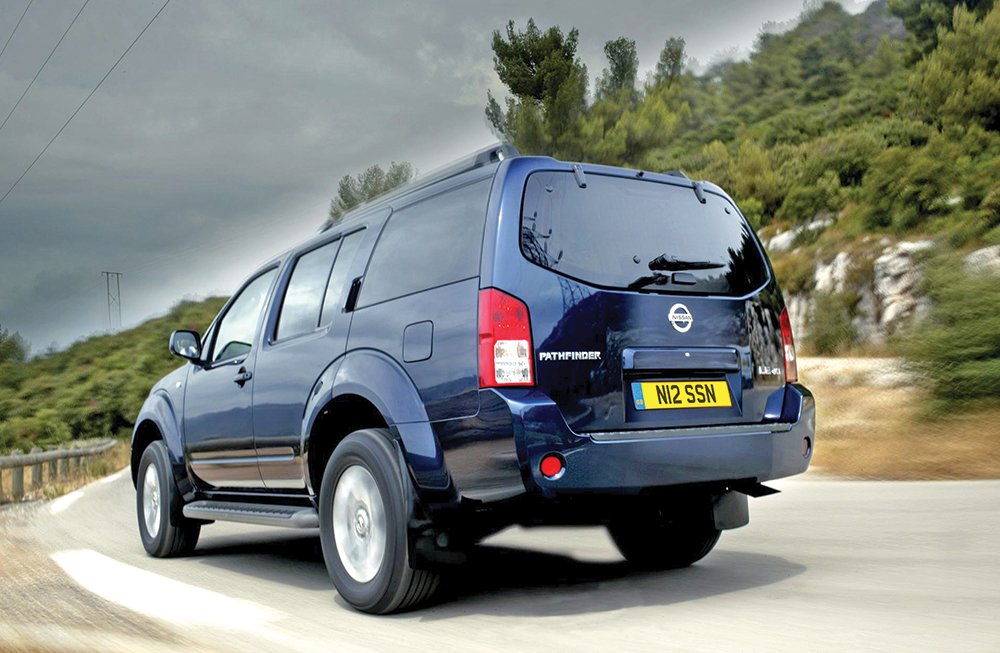 There's no question of the styling being unrefined, the final design having been based largely on the Dunehawk concept unveiled at Frankfurt in 2003, a major attraction at the time with its softly angular styling with strongly chiseled jawline, bold chrome grille and valance-mounted spot lamps, the gentle vertical curve of the side panels negating any impression of slab-sidedness while the big, sculpted wheelarch extensions create muscular haunches.
The fact that the Pathfinder has a body-on frame construction doesn't lower it to the same level as a pick-up, it raises it closer to the Toyota Land Cruiser, marking it as a more genuine off-roader than most modern mainstream SUVs, and also gives it the weight and rigidity to serve as an excellent towing vehicle, rated to haul three tonnes. A glance underneath the Pathfinder reveals an impressively flat underfloor profile with nothing to snag on stumps or rocks, so in spite of its rather low-riding stance it has good off-road capabilities. The All-Mode 4×4 system is basically a selectable system in that it has a 2H setting for normal use on hard, dry surfaces, but there's also an 'auto' setting where drive is shared between front and rear axles as required. The 4H position locks four-wheel drive in for off-road driving, and there's a low range capability, all of these accessed via a rotary selector on the dashboard.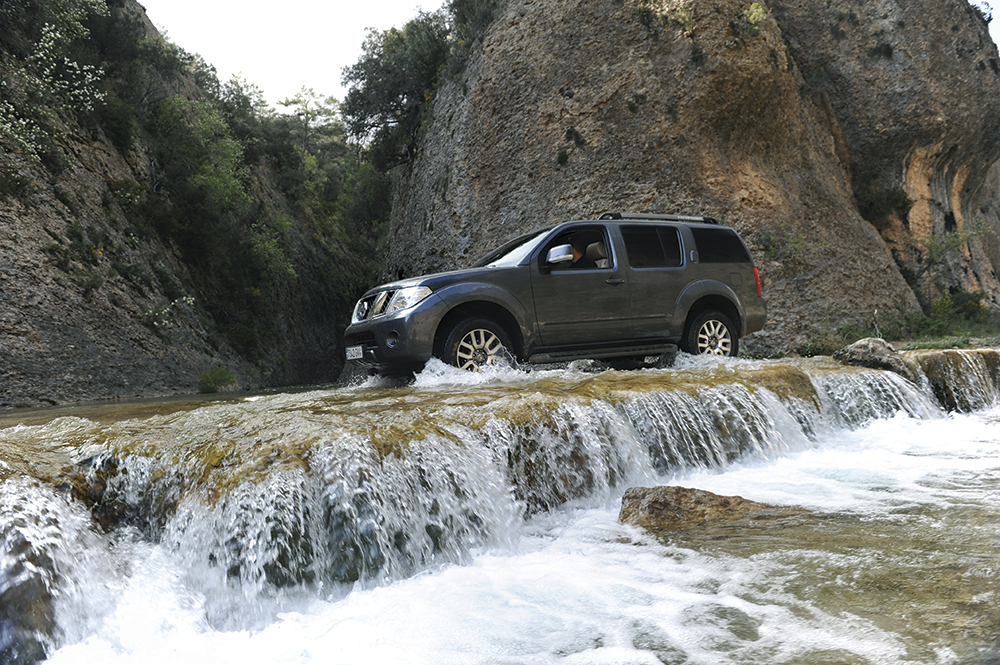 First examples in the UK were offered with the 2.5 dCi turbodiesel developing 171bhp, with a choice of six-speed manual or a five-speed automatic as a £1300 option. Later that year the 4.0-litre V6 was introduced, offering 265bhp, also with a choice of manual or automatic transmission. A facelift for 2010 saw revised grille and bonnet styling with redesigned headlamps, some cosmetic interior changes and a significant improvement in the output of the turbodiesel, up to 188bhp, along with improvements in refinement and economy.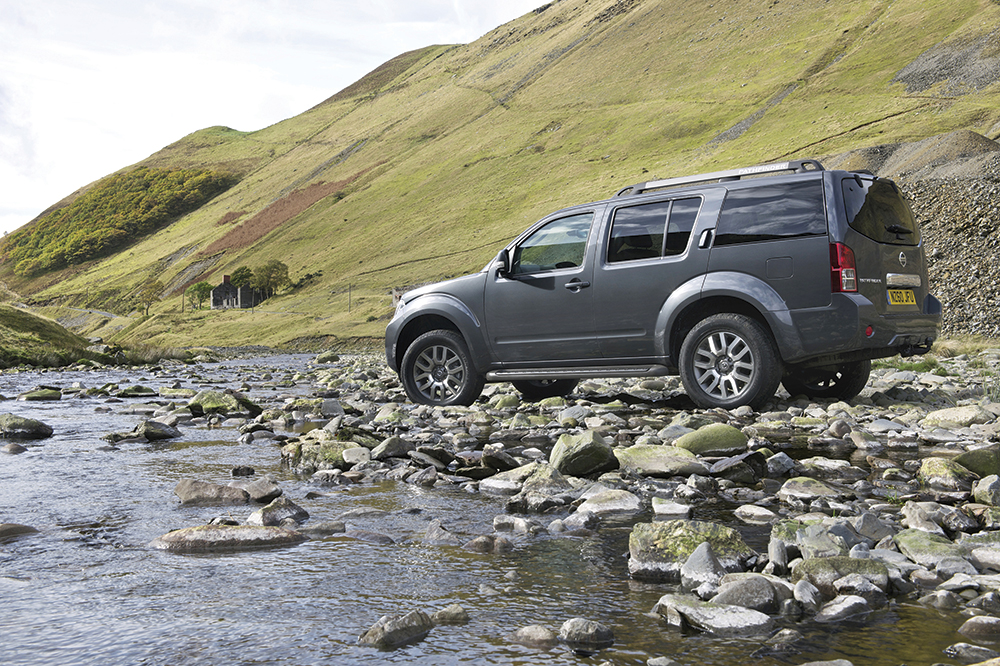 For 2014 Nissan produced an all-new Pathfinder, and following their oddball propensity for making all their models look the same, the new Pathfinder is a monocoque design using the Murano floorpan and with styling that emulates the Murano's curves rather than the more practical estate formula. This is available only with 3.5-litre petrol V6 power and is sold mainly in the US, Africa and Australia; it's not officially available in the UK or, oddly, Japan. That leaves the Nissan range in the UK without a true off-roader, something of a pity for the company that produced the mighty Patrol (and still does, with the slogan 'hero of all terrain' and a stonking 5.6-litre petrol engine, but obviously not for sale in the UK).
Nevertheless, the Pathfinder has some of the old Patrol's charisma in its size and uncompromising styling, so it's one to consider if you're after a truly practical seven-seater with more than adequate off-road capability. Now's also a good time to look around for a good used example – there are many run-out range-topping Tekna models with under 20,000 miles available for around £25,000, not bad for a car that not much more than a year ago carried a £36,000 price tag.
OUR VERDICT
It wasn't long after the introduction of the Pathfinder that we threw one in at the deep end by including it in one of our World's Best Off-roader comparisons. It didn't fare well, finishing in 10th place out of the 10 competitors, but then it was up against some serious hard-core opposition including the Jeep Grand Cherokee, Land Rover Discovery 3 and Defender, not to mention its own seriously competent stablemate, the Patrol. This was a serious test of off-road agility, taking into account approach and departure angles, hill climbing ability, axle articulation, turning circle and side slope capability as well as ground clearance, and the Pathfinder's downfall was mainly its relatively low ride height. We wrote in our July 2005 issue: "It's been fettled for on-road comfort rather than off-road excellence. The independent suspension front and rear can't provide the articulation needed for difficult off-road terrain."
However, on less demanding terrain the Pathfinder proves as capable as any other off-roader. In the same issue we carried a first drive report on our first hands-on experience of a 2.5 dCi, in well-equipped SE form, on a slippery Welsh off-road site where its electronic driving aids and 2.6:1 low range gearing proved their worth. We wrote: "The fact that low range is linked with the electronic stability programme, anti-lock brakes and traction control helps the large SUV cope with most low-grip situations." We found the Pathfinder a pleasing car to drive: "Unsurprisingly Nissan has mated the 2.5-litre dCi engine to a six-speed manual gearbox to make the best use of the turbodiesel's eager performance. On the road the tall gearstick makes for effortless shifting from the lofty driving perch, but in trickier off-road conditions, and in low ratio, the jump between First and Second gears to Third is more noticeable, with extra momentum required for the torque to have any effect at the wheels in Third gear or above. That said, the Pathfinder handles extremely well for a machine measuring over 4.7-metres in length and weighing in excess of 2.2 tonnes, either cornering on even tarmac or traversing a rippled hillside."
Fuel prices weren't quite as fearsome back in 2006, which could explain the comment in our March issue of that year when we reported on our first outing with the 4.0-litre V6: "There's a perceived image of penny-pinching with diesel, so if you need extra seating but want a semblance of sporting performance, how about the petrol-powered V6 Pathfinder? The V6 aims to offer a more relaxing driving experience with a five-speed automatic gearbox further reducing the physical input of shifting the Nissan's two tonne plus frame. Start the intelligent keyless ignition and there's an immediate aural difference implying another status level."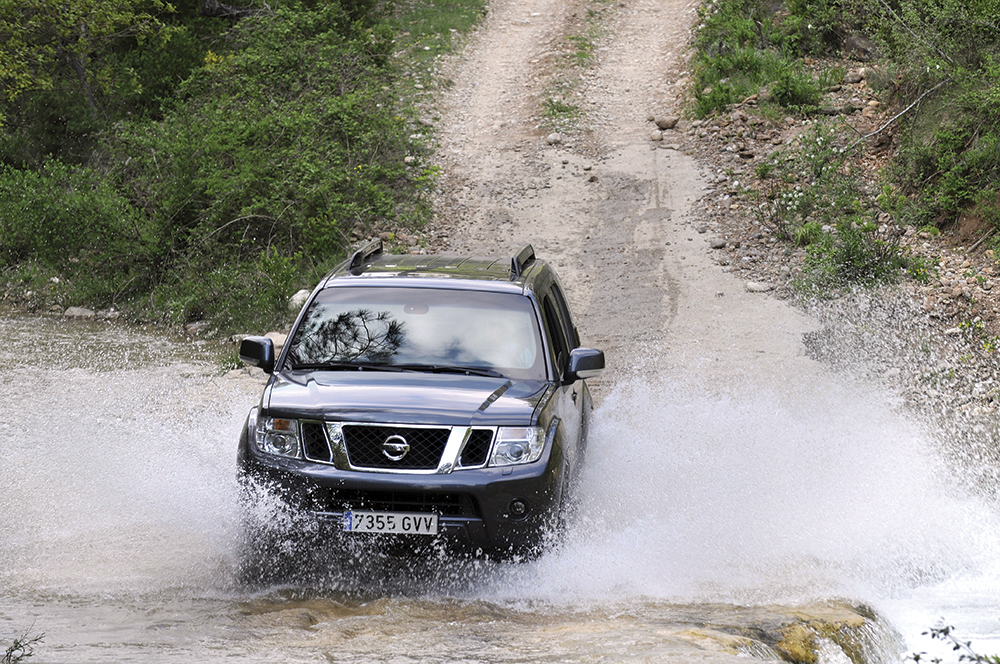 The fact that V6 Pathfinders are rare second-hand suggests that penny-pinching won the day; we must have realised that at the time, because in our Summer 2007 issue we pitted a 2.5 dCi against other value-priced seven-seaters, the rivals being a Mitsubishi Shogun with its lusty 3.2 DI DC turbodiesel engine and a SsangYong Rexton in 2.7 turbodiesel form. The Shogun was by far the more expensive of the trio, and seemed dated and cumbersome compared with the others. The Rexton impressed as a value-for money alternative, the fully-kitted out SX priced below the base model Shogun, but ultimately the Pathfinder took the honours for its neater styling, better performance and refinement and its more versatile seating arrangement.
We welcomed the facelift for 2010. In our October issue of that year, we appreciated the better quality look and feel of the controls and switchgear, the improved trim materials and, of course, in improvement in performance from the engine upgrade. By this time only the 2.5 dCi was available, and only two trim levels were offered, base Acenta and high-specification Tekna. From a pricing point of view we had never seen the Pathfinder as a direct rival to a Discovery 3 or Discovery 4, but with its seven-seat configuration and versatile seating arrangement it certainly offers similar practicality as an everyday family estate. Our verdict summed it up: "The Pathfinder is not a Discovery 4 but if you have a big family or lots of friends and you want to travel wherever, then the big Nissan might be right up your path."
ENGINEDRIVETRAINCHASSISBODY AND INTERIOR
Look for a car with a good service history, because the 2.5 dCi engine is susceptible to poor service attention and low quality lubricants. One common problem is poor lubrication of the timing chain tensioner, which can lead to broken chains and consequent damage to other components. Check that the engine oil is not contaminated, excessive 'mayonnaise' around the oil filler cap is a sign that water is mixing with the oil and can indicate a failing head gasket. Make sure the engine runs freely and idles smoothly, common problems are clogged diesel particulate filters and EGR components, which can cause the engine to run erratically. Reject any car that blows excessive black smoke from the exhaust, caused by a failing turbo or worn injectors, or grey smoke indicating excessively worn cylinders or piston rings.
We'd recommend a manual transmission version, partly because of the better fuel consumption and partly because there were a spate of problems in early Pathfinders of the transmission fluid becoming contaminated and ruining the transmission – in any older car long out of warranty this would result in an expensive repair. The six-speed manual transmission seems well up to the task, but make sure the shifts are clean and positive, particularly in a car that's been used for towing where snatched changes might have damaged the synchromesh – reject any car that crunches a gear change or requires excessive pedal movement to declutch. Vibration through the drive train could mean worn propshaft joints, while checking underneath look for signs that the halfshaft seals are weeping fluid. Front wheel bearings are a potential weak point, reject any car exhibiting the telltale growling sound.

Check that the chassis rails are rust-free, especially around mounting points for the body and suspension components. Knocking or rattling noises from underneath may indicate worn suspension ball joints, excessive wear will also result in imprecise steering and a tendency to wander. Check that the steering has a progressive and smooth action, jerkiness might suggest impending failure of the power steering pump. Also make sure there is no excessive whining from the pump on full lock.  Make sure the car doesn't pull to one side or another when braking hard, suggesting a seized caliper. Check that the brake discs haven't been excessively worn or scored. While under the car check that the underslung spare is there – it's easy to steal and worth fitting an aftermarket lock to secure it.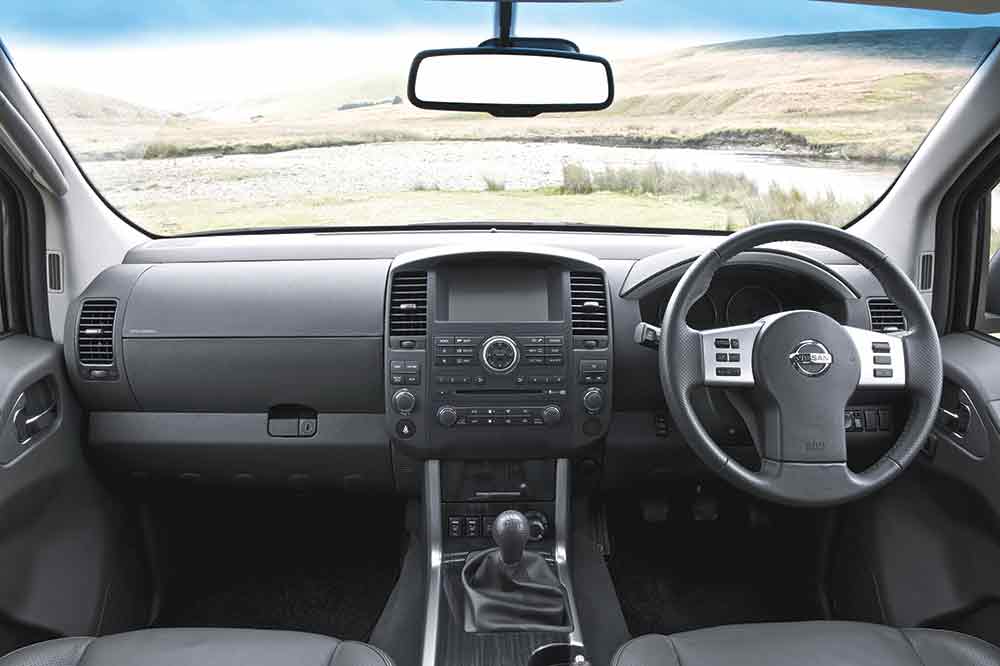 Check the bodywork carefully for signs that rust patches and blemishes have been hidden under filler and touch-up paint, because the paint is prone to stone chipping and rust quite commonly takes hold along the top of the screen and where trim has been fixed to the bodywork, also check around the rear door hinges for signs of bubbling paint. In premium models check that the air conditioning works in the rear as well as the front, as the feed to the rear is prone to failure and is expensive to repair. Check that the dashboard lights work properly, and that all electronic features such as the stereo and satnav operate properly. If a sunroof is fitted, check for rust on the surround and for signs of water ingress.