For 2005 the Grand Cherokee began its transformation from rough-riding Yank to sophisticated European; fortunately there's enough laid-back American character left to set it apart from blander rivals
TARGET RANGE:  £3,000 – £15,000
The alliance with Mercedes-Benz in the late '90s might have been the saviour of the Jeep brand, but it did mean compromising times for the Grand Cherokee. Sitting at the comfort end of the Jeep range with its spacious interior and lusty V8 power the original Grand had been as all-American as apple pie, but it was still too unrefined and thirsty for European tastes. For 1999 the Grand lost its separate chassis in favour of a lighter monocoque bodyshell and, a key advance for European customers, gained sensible Mercedes turbodiesel power. We had to wait until 2005, however, before the Grand also lost its beam front axle in favour of independent suspension, along with tauter steering courtesy of a rack and pinion system and more power from an uprated Mercedes 3.0-litre turbodiesel. Even with these changes the Grand Cherokee retained much of its American character, so compared with European and far eastern rivals it still has a rather brash appearance allied to a laid-back driving style that seems at odds with attempts to make it look and feel more in keeping with European expectations. Hence it was never going to be a best-seller, but it did find a following among folk wishing to be part of the undeniably charismatic Jeep legend, on the other hand, the many who saw the similarly undeniable value for money in a car that undercut key rivals while offering as much, if not more, in the way of luxury equipment.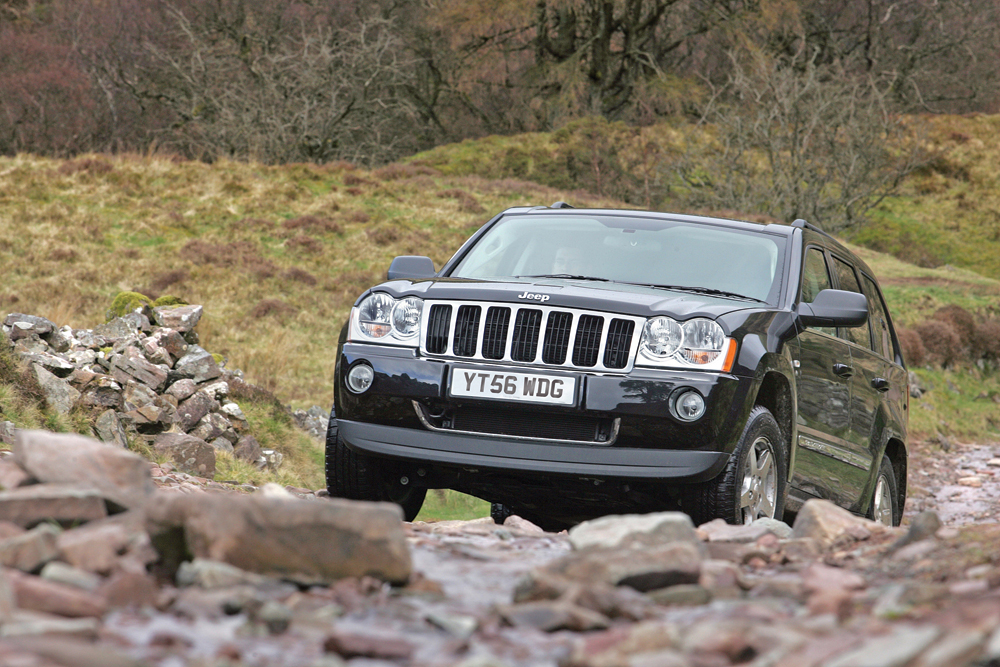 For 2005 the Grand presented a bold new frontal appearance, with the not-quite-rectangular headlamps of the earlier model replaced by pairs of halogen lamps butting up into the bonnet line, straddling a bold seven-slot grill and underlined by a heavy, almost aggressively-thrusting bumper. Otherwise the body lines seemed unchanged, although closer inspection revealed that the windscreen has a more aerodynamic rake, the doors are bigger and squarer, there's a higher belt line and the rear has bigger lamp clusters and a heavier rear bumper and tailgate design. The interior was also restyled, not necessarily for the better where the dashboard is concerned, since it has a particularly chunky look to it which we described as looking as if it had been carved out of granite, possibly in an attempt to give the whole car a solid American Rocky Mountain look, great if you like it, but a rather startling exception to the smoother and more organic shapes favoured by most European and Asian manufacturers. Other worthy features in the new model include a 60-40 split for the rear seat fold and a reversible boot-floor storage tray, not to mention the concert-quality sound system in top models linked via a colour display to the satnav.
For Europe the other significant improvement for the new model was the introduction of the 3.0-litre V6 CRD turbodiesel, as used in the Mercedes M-Class, replacing the 2.7-litre unit in the previous generation. The engine is a modern all-alloy quad-cam design with common rail injection, producing 218bhp, perhaps more importantly for heavy towing or off-road duties the peak torque is developed at a lowly 1600rpm. From the start the new model could also be specified with the stunning 325bhp 5.7-litre Hemi V8 engine, absolutely the right choice for anyone wanting to enjoy the all-American side of the car's character. All those smokin' cubic inches ought to translate into heady fuel consumption, but in fact the engine is relatively economical since it switches out four of its cylinders to use less fuel when it's not being hammered to outpace a hot hatch, and uses little more fuel than the old faithful 4.0-litre six – expect 18mpg if you have a sensibly light right foot.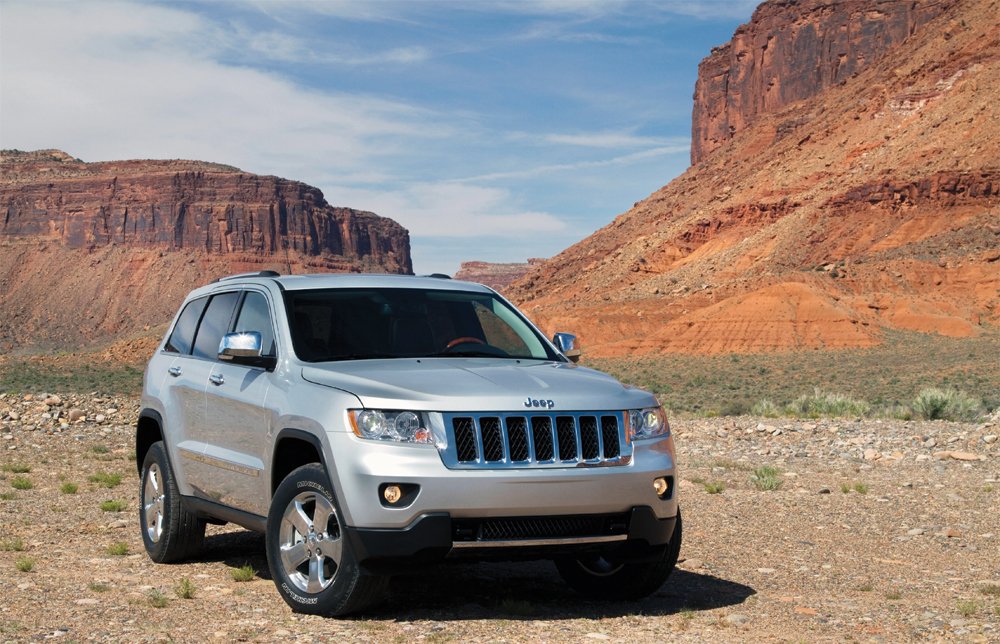 A short while after launch a 4.7-litre V8 was added to the range, with 230bhp on tap but also significantly heavier consumption than the turbodiesel so it has not proved particularly popular, one reason why the thirsty V8s were dropped a year or so later. All versions have five-speed automatic transmissions and low range.
For 2005 the Grand also switched from the Quadra Drive 4WD system to Quadra Drive II, the main difference being that the limited slip differentials on front and rear axles are electronically operated rather than by the oil pressure used to lock the Gerotor type diffs on the previous model – the advantage being that the electronics can keep the diffs locked until the car is well past the situation that called for them, whereas the Gerotor type would keep switching in and out in response to wheelspin.
Our verdicts
Looking back on it we were pretty harsh on the Grand Cherokee back in 2005 when we pitted the all-new third-generation model against nine competitors in one of our 'World's Best Off-Roader' features. It came eighth out of 10, narrowly beating the Hyundai Terracan and giving ground to the Mitsubishi Shogun and Toyota Land Cruiser as well as the Land Rover Discovery, but then the overall winner was the Santana PS10, so it's obvious that our main interest in that confrontation was plain mud-plugging with no consideration for style and refinement. The previous generation Grand Cherokee had actually won the 'Best Off-Roader' accolade for 2004, so what had gone wrong? Our explanation, in the July 2005 issue, was straightforward: "In adapting the Jeep's running gear for improved on-road ride comfort the engineers have compromised off-roading agility. The key factor is the switch from beam axle to independent front suspension, robbing the Jeep of the excellent articulation the previous model enjoyed." We did at least heap praise on the new Quadra Drive II system, which effectively locks front and rear differentials in tortuous situations.
We had already experienced the Quadra Drive II system in action; it just so happened that our very first hands-on experience of the new Grand Cherokee, at its launch presentation, had taken place just a couple of weeks earlier, so the report appeared in the same July 2005 issue. That gave us the opportunity to give a more balanced overview of the new model, and we were impressed: "It's been criticised for years for its lack of on-road finesse but finally Daimler Chrysler has bowed to pressure and delivered a new Grand Cherokee that's a revelation to drive on the road. The new suspension has allowed Jeep to use rack and pinion steering, which has improved driver feel no end with a new found nimbleness. Electronic Stability Programme has been brought in, traction control and rollover mitigation are standard."
We hailed the arrival of the more economical and powerful 3.0-litre turbodiesel, but naturally enthused over the 5.7 Hemi: "The combination of the Hemi V8 with the slick, smooth and delightful five-speed auto is spot on. Kickdown is superb and hits the driver with a pure adrenaline rush." Fuel consumption at 18.3mpg meant it wasn't for everybody.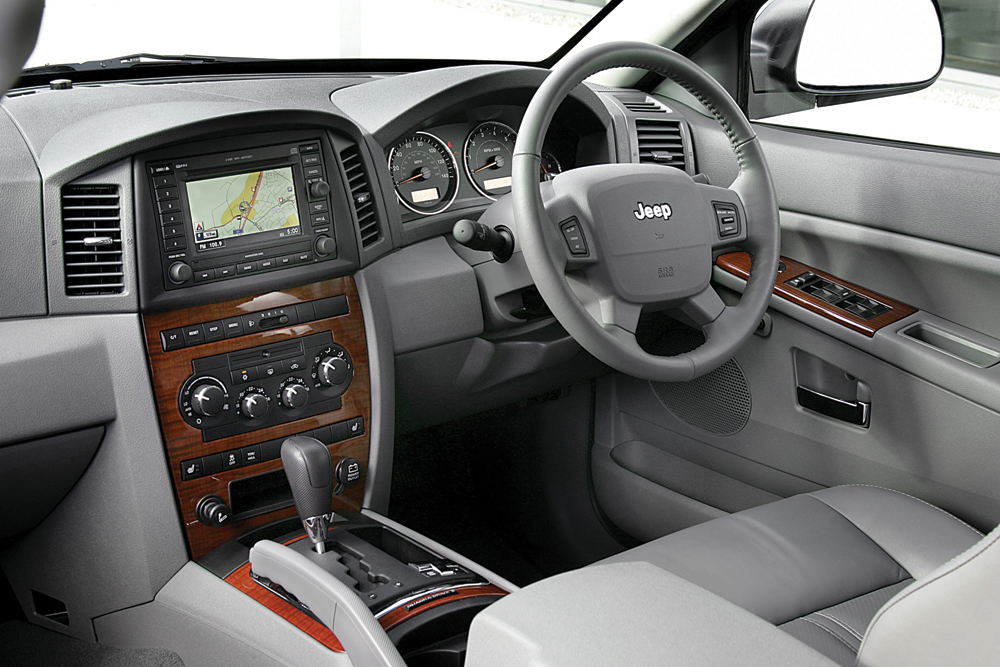 We gave the high-specification Overland a cool reception when it appeared early in 2006. Our report in the June issue of that year praised some aspects of the well-equipped interior, but not others: "The Overland majors on soft two-tone leather and wood accents which look like they were once part of a tree. Shame they couldn't improve on the silly ignition key location and the handbrake lever tucked down the side of the passenger seat."
We liked the honeycomb grille, the 18-inch alloys and the platinum detailing that distinguishes the Overland from the rest of the range, but were more impressed by the turbodiesel engine: "The CRD engine is superbly refined with enough performance to leave a Discovery floundering in its wake. The Jeep is lighter than the Discovery but users will appreciate the Discovery-sized 3500kg tow rating." We still weren't sure about the car's off-road ability: "The brilliant Quadra Drive II 4WD system will get you out of a muddy gymkhana field, but the downside to the Grand Cherokee's estate-car stance is that any more taxing off-roading is probably best avoided."
The Grand Cherokee made regular appearances in our annual 4×4 Of The Year appraisals, but never impressed enough to win a major award, even though for 2006 we again had the pleasure of the 5.7 Hemi-engined version. By 2007 we'd decided that we didn't like the heavy sculptured dash with its equally bulky door trim, but by 2008 we were beginning to recognise that, in spite of a firm ride quality, it was well worth considering as a value-for money luxury purchase. We firmed up that feeling for 2009: "This is a lot of car for the money. It's the cheapest in the class and yet is still highly refined and comfortable." By 2010, with a new model on the way and more competition than ever from sharper-styled rivals, our farewell comment was predictable: 'We love the sublime Mercedes V6 engine and we've always been huge fans of the Quadra Drive II system, but that driveline brilliance comes packaged in something so bland that no amount of leather and wood can convince you that the Grand is anything more than a 'really nice' 4×4."
Which one to buy
The mainstream specification level for the Grand Cherokee is the Limited, and these are most common secondhand. There is also a standard trim version, but they're rare and not particularly cheap, although they have cloth upholstery they do have electric seat adjustment, air conditioning, electric windows, remote central locking and 17-inch alloy wheels, with driver, passenger and front side airbags, tyre pressure monitors and the electronic stability programme, as well as the off-road aids of hill descent control and hill start assist. We spotted a silver 2006 model with 96,000 miles on offer for £5985 at Ivybridge Motors in Devon (01752 892403), with the added bonus of an extended warranty and lifetime MOTs.
No matter if you can't find one, the Limited is arguably a much better value purchase, since it has a higher equipment spec including leather upholstery and climate control. Satnav was a £1550 option. There is also a huge range of second-hand examples available, pay from £3000 for a high-mileage early example, more like £6000 for anything decent with less than 100,000 miles, though we have seen a few being offered privately at around £4500. Used Car of Doncaster (01427 875288) were offering a metallic blue 2006 Limited with 92,800 miles, full service history and MOT to April, for £5988. Caravan dealers County of Somerset (01823 413333) were advertising a silver 2009 example with 64,500 miles, good bodywork and tyres, for £9900, presumably a car with towing experience, something of a bargain compared with the similar-age 58,000 mile metallic silver example priced at £11,500 at Trade Price Cars of Essex (01286 766722) though this did have a service history, new MOT, six-month warranty and a year's AA breakdown cover thrown in. From 2008 there was an S-Limited which included an in-car entertainment upgrade, parking aids, rain sensing wipers and 18-inch alloys, Hadleigh Garage of Leigh-on-Sea (01702 471003) were asking £13,999 for a pristine metallic silver 34,000-mile run-out example on a 60 plate, full service history and a 6-month warranty.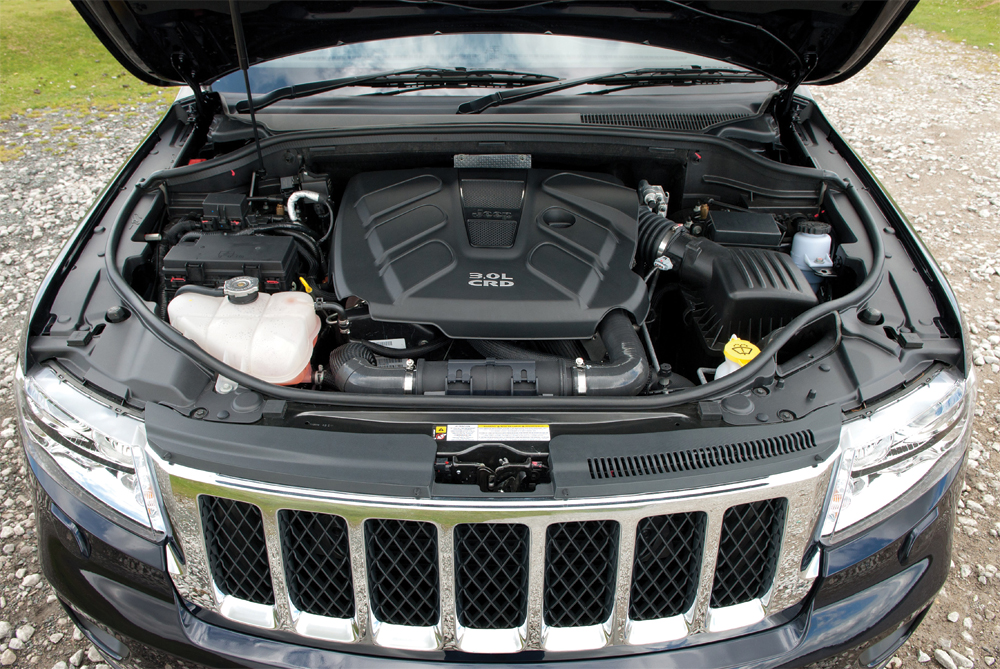 The Overland introduced in 2006 was hailed as the most luxurious Jeep yet, with detailed improvements to the interior, with additional leather trim on the steering wheel and door panels, high-end stereo and CD system with Bluetooth and satnav as standard, it also had a rear-view camera. Look out for versions that had the optional sunroof. Pay £5000 for a high-mileage example, Whitley Bay Motors in the north east (01914 153540) were asking £6995 for a blue 80,000 miler from 2006 with a new MOT. Acklam Car Centre of Middlesbrough (01642 966670) had a 46,000 miler on a 60 plate advertised for £15,990 (not a bad price considering it cost over £33,000 new), arguably there was better value to be had from Eddie Wright Car Supermarket in Lincolnshire (01724 245570) who were asking £13,000 for a metallic grey 70,000-miler of the same age. Look out for examples of the Overland Tech, which had a power sunroof as standard and xenon headlamps.
Petrol versions are also rare, but the 5.7 Hemi is a delight to drive. How's this for a high-fun beast of a car for relatively chicken-feed money – Doshsavers of Mansfield (01623 652004) had a silver 2007 Hemi with a full service history but only 84,000 miles and priced at just £7795. Meanwhile if you like the sound and performance of a V8 but aren't sure you'd be able to cope with the Hemi, there was a 4.7 Predator special edition from 2006 on sale at Central Car Sales of Northallerton (01609 773777) for £5995, still in top condition and with only 51,000 miles, full service history and sold with a warranty and long MOT.
ENGINE DRIVETRAIN CHASSIS BODY AND INTERIOR
There are no particular problems associated with any of the engines. The V8s are as bulletproof as you'd expect from an all-American product, and most we've seen for sale second-hand have well under 100,000 miles on them – a natural consequence of their thirst, but also something of a guarantee that they'll still be in good condition. Nevertheless, as with any engine, make sure it starts easily, idles smoothly and revs progressively, and check that the exhaust is smoke-free. The diesel is a reputable Mercedes unit but as with any modern common-rail, high-efficiency turbodiesel it requires proper service attention with the correct quality of lubricants, so look for a full service history from a franchised dealer. Reject a car that doesn't start easily, blows black smoke and feels lethargic, it might be a sign that the expensive injectors need replacing or the turbo is failing, also listen for screeching or squealing from under the bonnet that could point to a failing water pump.

These modern sophisticated transmissions are also susceptible to poor service attention, so reject any car that exhibits too much shunt when changing between first and reverse, fails to kick down responsively, jerks its changes or allows too much engine revving between shifts. Typical problems include a tendency to miss first gear when pulling away and a failure to select the overdrive top when cruising, so on a test drive make sure all the gears are engaging when they should. It's quite likely that a car that's had an easy life as a school run MPV may never have been in low range, so check that the transfer box hasn't seized by selecting low range and making sure it engages. Reject any car that rumbles or whines when under way, the sophisticated auto-locking differentials can wear, as can wheel bearings.
Fortunately the suspension is refreshingly conventional, and problems are relatively easy to put right – higher-mileage cars, particularly ones that have been used for towing, might suffer from soggy dampers or even strained springs. Check that the car sits square and drives crisply, and doesn't wobble about excessively in corners. The steering should feel crisp and reasonably direct, reject a car if it feels too vague, suggesting that bushes are worn. Make sure the steering works progressively from lock to lock, excessive groaning or squealing on full lock might indicate a failing power steering pump. Seized brake calipers could result in uneven braking or power-draining drag on the discs while driving; feel (without touching!) for excessive heat from one or both of the discs after a drive caused by a dragging brake pad.

Probably the most important point to make about the earlier versions of this car is that the ignition switch is positioned low to the right of the steering column – where the driver's knee can come into contact with the key and, by brushing against it, turn off the engine which of course also means that steering and brake servos are lost. Jeep realised this problem quickly and moved the ignition switch on later models to a position higher and to the left of the steering column, well out of the way of swinging knees. On those earlier models, though, the only advice given – and we can only reinforce the point – is that it's best not to have a fob on the key, and not to hang anything on it, like a bunch of house keys, to reduce the chance of that accidental contact taking place. Otherwise expect some signs of wear on the leather trim on the driver's seat on higher mileage cars, and check that all the electric features work – make sure all the doors and tailgate respond to the remote, that all the electric windows work properly and that the stereo and the satnav operate as they should, as occasional failures are known. The heating and ventilation system, including the air conditioning, can glitch, so check that the air blows cold when it should and also that the heater is effective, repairs will require removal of the dashboard and the subsequent depletion of your bank account.
OR YOU COULD CONSIDER…
Mercedes-Benz ML
Range Rover Sport
Toyota Amazon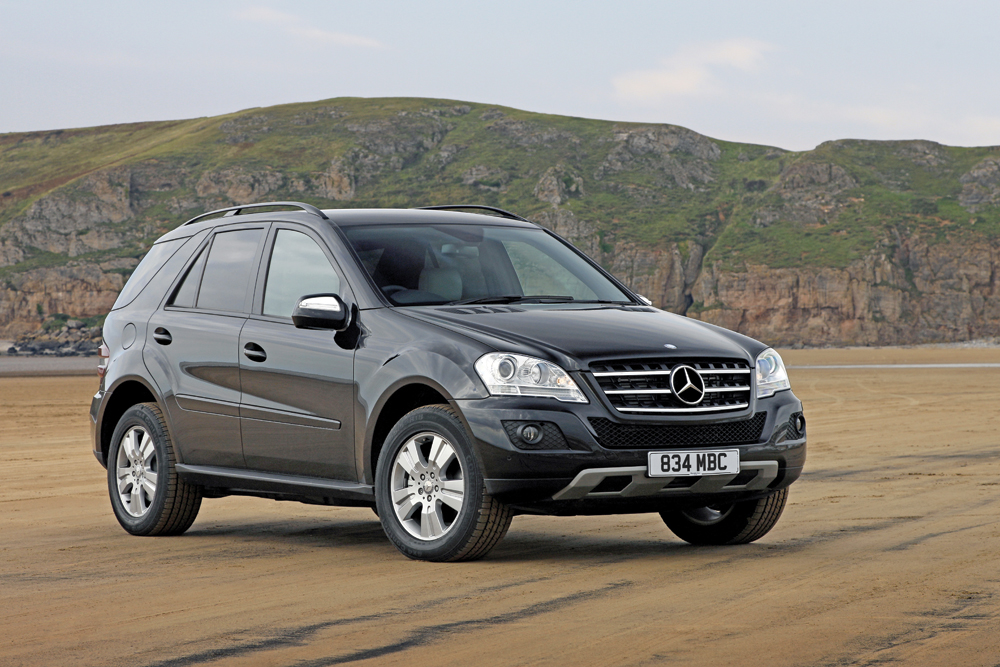 You could say the ML is the most direct challenger to the Grand Cherokee since this generation of the Jeep was developed under Mercedes control and shares its 3.0-litre turbodiesel engine with the ML, both cars are luxurious five-seaters, the main difference being one of image – the ML is totally European, the Jeep is strongly American in character. High-specification versions of the ML have plenty of luxury equipment and a reasonably opulent air to their interiors; there may be a downside in that the ML just doesn't have the same road-dominating presence as the bold-fronted Jeep and despite the high equipment levels the interiors are rather bland. Although the ML will generally have had a higher original purchase price you should still be able to get a later model for your money – pay £10,000 for an '07 ML280 or 320 in Sport or SE form with under 100,000 miles, £15,000 should get you into a 320 Sport dating from 08 or 09. Want some fun? We spotted several of the lusty ML500 Sports on '05 and '06 plates on offer from £11,000 – £13,000.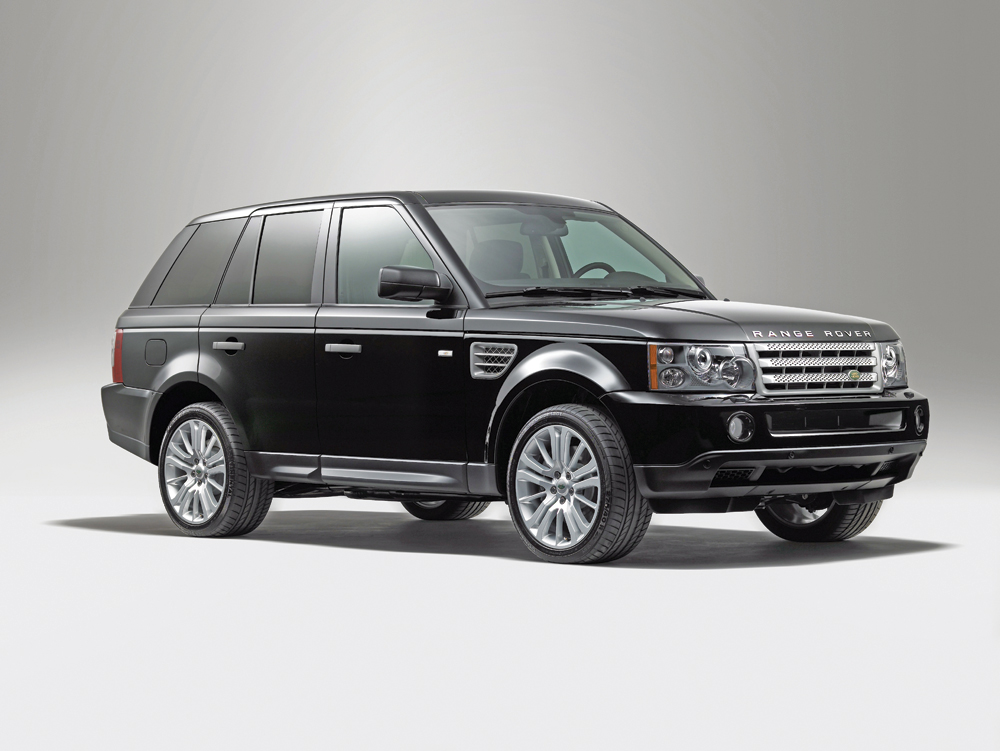 In total contrast to the swaggering American character of the Jeep the Range Rover Sport oozes English Country Gentleman. There's also a contrast in the way the cars drive, the Range Rover is both tauter in its handling and more comfortable in its ride. There's a superb range of engines to choose from, from the economical 2.7 V6 TD to a choice of 4.4-litre petrol V8 or the stunning 385bhp supercharged 4.2; most sought-after has to be the later 270bhp twin-turbo 3.6 TD V8. All these drive through a modern slick-shifting six-speed automatic. Comfort and luxury equipment are on a par with the Grand Cherokee, better in the range-topping HSE, and it surpasses the American in its electronic wizardry both in on-road and off-road driving aids the latter including electronic air suspension with terrain response. The Sport was one of the new generation of Land Rovers that shrugged off earlier questions of reliability, with good reports from customer surveys. With  £14,000 – £15,000 to spend you should secure a 2009 2.7 TD V6 HSE with reasonable mileage, or a 2007 3.6 TD V8 HSE.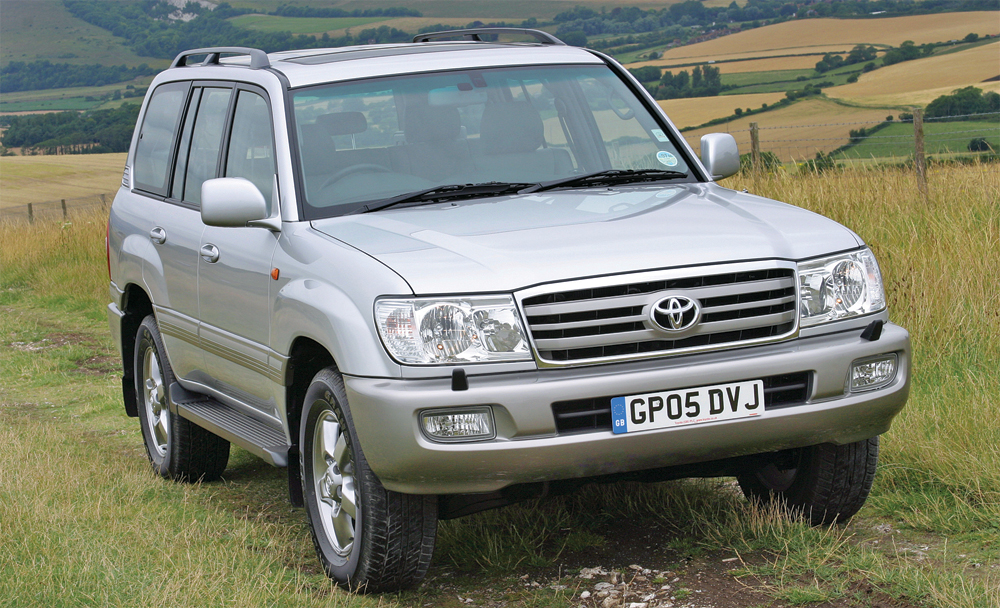 Where the Jeep may have softened its off-road character in favour of on-road comfort, the mighty Toyota manages dominating road presence while retaining excellent off-road ability. Like the Jeep this generation of Amazon had succumbed to the comforting allure of independent front suspension, but with long-term durability in mind it retains the separate steel chassis frame shunned by its mainstream rivals. The styling of the interior may be a little bland, but comfort and luxury equipment is as good as it gets, and though it does lag a little in some of the high-tech driving aids that feature in more leading-edge rivals, it's still a good car to drive with excellent towing ability. The Toyota's styling may seem dated, classic to others; either way it's a handsome machine with good power from either the 4.2-litre turbodiesel or 4.7-litre V8. It's also heavy, so it's not as quick or as nimble as the Grand Cherokee, but it does have the bonus of seven-seats. The Amazon holds its value, so within our price range you can find examples dating as far back as 2003 and 2004.