Though sharing its key underpinnings with the racy Porsche Cayenne and the elegant VW Touareg, the Audi Q7 actually hides its virtues under what is a surprisingly bland exterior
TARGET RANGE:  £15,000 – £50,000
When the Q7 launched in 2006, we couldn't help wondering why it had taken Audi, the company that had made such an impact in the motorsport world with their famed quattro four-wheel drive system, so long to produce a 'genuine' off-roader. It was obviously a model that enthusiasts for the marque were waiting for, since well over half a million of them have since been sold all over the world. Good news for the many others who aspire to Q7 ownership is that with a new model already in dealer showrooms, second-hand examples will become more affordable, while there's also a chance that many dealers will offer discounts to shift remaining run-out models.
If there was a delay, it's because Audi was tied into a deal whereby their new premium off-roader would have the same framework as the offerings from Porsche and Volkswagen – the Cayenne and the Touareg. Not that the Audi was going to be a simple badge-engineered alternative to the Touareg, the first departure from the norm being the decision to make the Q7 a seven-seater. Hence Audi extended the wheelbase by 10cm and designed a bodyshell nearly 30cm longer than the Touareg. It's also taller and wider, so even with its extra seats the Q7 still feels like a spacious luxury lounge on wheels. If your reason for choosing a Q7 is for the seven seats, do make sure the rearmost positions are adequate for your purpose; Audi sensibly refer to the car as a 5+2 seater, since the rearmost seats, although seeming quite bulky, are mainly suitable for younger occupants.
Four-wheel drive is by means of a derivative of the original geared quattro system, with a 40-60 front-rear torque split and self-locking Torsen centre differential, and – the biggest hint that the Audi was never intended to be a 'genuine' off-road car – there's no low-range gearing. Versions destined for sale in the UK all had the height-adjustable air suspension as standard, so the ride height can be increased significantly if you do venture off road, and the automatic transmission does make it possible to tackle quite steep inclines by virtue of allowing some torque converter slippage to prevent stalling.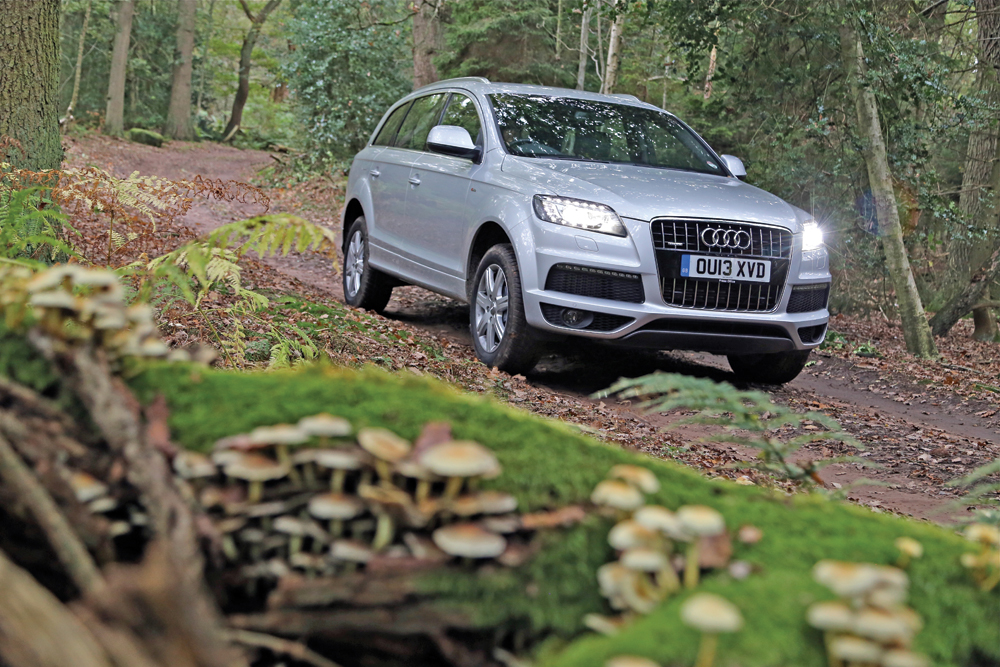 The original engine choice was between a lusty 4.2-litre petrol V8 or a 3.0-litre V6 turbodiesel, these being supplemented later in 2006 by the 3.6-litre V6 petrol engine. All came with a six-speed automatic as standard, a Tiptronic type that allowed manual intervention by means of steering wheel-mounted paddles.
Engine upgrades came thick and fast, some in the interests of better economy, others in the quest for more power. The first new engine appeared a year after launch in the form of a 4.2-litre V8 turbodiesel, almost as powerful as the petrol V8 and capable of bettering 25mpg, though the more refined petrol V8 could return 21mpg with care – nevertheless petrol V8s are rare second-hand because the turbodiesel was seen as the more sensible option.
The second new power plant blew economy into the weeds, but who'd care with nearly 500bhp on tap from the incredible 6.0-litre V12 turbodiesel. It's theoretically capable of returning 25mpg, but unlikely to get anywhere near that in practice.
During 2009 a facelift saw a redesigned front grille and LED rear lights, high-end S line versions also getting wraparound LED daytime running lights around the xenon headlamps, an optional feature on other models. More significant was the upgrade to the power plants, the 3.0 TDI claiming to have the world's cleanest diesel technology with its AdBlue additive eliminating nitrous oxides from the exhaust gas. The 4.2-litre turbodiesel also benefited from a 15bhp power boost as well as improved economy, up to a claimed 28.5mpg. The following year a new supercharged 3.0-litre petrol V6 was introduced, in two states of tune, to supplant the 3.6-litre and 4.2-litre petrol units. They're not quite as powerful as the engines they replace, but offer significant fuel economy improvements. The 3.0 TDI was also redeveloped and with start-stop technology offers a 19 per cent economy improvement over its predecessor. At the same time all versions of the Q7 had a new eight-speed automatic, providing smoother changes and a broader range of ratios for relaxed cruising and better overall economy.
For the 2012 model year a higher-economy engine was added to the range, a 201-horse version of the 3.0 TDI. This isn't an entry-level option, it's available with SE, S Line and even S Line Plus trim levels, the main attraction being the claimed 39mpg fuel consumption, while the strong low-down torque still allows acceptable getaway acceleration – 9.1 seconds from 0-60mph – and relaxed cruising at the motorway limit.
Our verdicts
If our enthusiasm for the Q7 seems a little muted, it's because we do have a tendency to favour cars that not only have good off-road capability but also look the part. The Audi has neither of these attributes; the best we could say about its styling, when our first report on the new model appeared in the April 2006 issue, was: "The exterior design is best described as safe." That's not to say we didn't like the car, just that we felt it lacked character. We did remark on the aspects we'd have expected from any Audi: "The interior is seriously well-equipped and immaculately built. The extra pair of rear seats swing into position without having to mess around with the other rows, while the comfort level for all occupants is high."
That first drive was conducted on firm surfaces in icy winter conditions, so our reporter – an off-road enthusiast as are we all – wasn't able to try the Q7 in serious off-road conditions. Even so, his comments are telling: "Despite being equipped with air suspension and having decent ground clearance in off-road mode, long overhangs mean the Q7 is unlikely to trouble the Discovery off-road."
There were likeable aspects: "For most the 3.0-litre TDI will be the engine of choice. Audi may have played second fiddle to BMW and Mercedes in the early days of big-capacity diesels, but the recently revised 3.0 TDI is a gem. There's loads of torque on offer low down the rev range and the 0-60mph sprint takes just 9.1 seconds – impressive stuff from a car weighing 2.3 tonnes."
Our tongues were firmly in our cheeks when we described our first proper road test experience with the new Q7 in the July 2006 issue: "Be afraid. Be very afraid. Audi's press ads feature enormous black widow spiders and compare the RS4 and RS6 super saloons to horror movies under the strapline 'Hearts of Darkness.' The new Q7 is the biggest, baddest Audi yet, at this rate the ad campaign should be downright terrifying." We even went as far as to emote over the styling: "With a gaping mouth grille and frowning headlights this SUV looks imposing, and yes, even sinister…"
Had we been referring to the V12 version there might have been some point to this praise, but that hadn't been released at that time, and reality reared its enthusiasm-damping head once we'd spent some time at the wheel of the 3.0TDI: "Audi's tiptronic is fitted as standard. Drivers can select Sports mode, which offers later upshifts, or a sequential manual mode using the steering wheel-mounted paddles. It's an impressive system, but the Q7 is more of a big cruiser than a sports car and, after a brief play with the paddles I was quite content to slip the lever back into Auto and waft along on a wave of muscular torque." Very pleasant, but not very scary.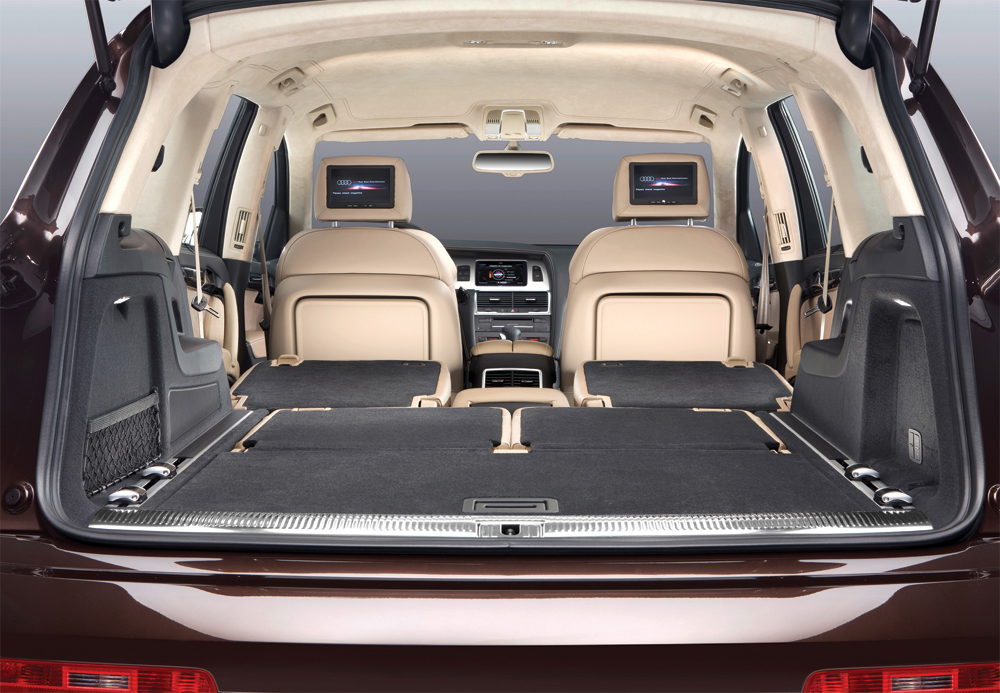 Looking back on the three-way road test we featured in the February 2007 issue, it's hard to see why the Q7 came out the winner against its Cayenne and Touareg stablemates. Certainly, it won by only half a point, and that because of the limo-like ride comfort, though we didn't rate its handling; the Cayenne is a much more involving drive, both it and the Touareg are better than the Q7 off-road… but after all, we need to be objective about these things and we summed up by commenting: "Prestige means different things to different people. The Cayenne's sports car shield is enough for some, the Touareg can offer more equipment and unwavering build quality, but the VW brand hasn't got the presence of its fellow Germans here. Although the Q7 has sacrificed low range, three years of development has moved the platform-share goalposts. Seven luxurious seats, an equally svelte driving experience and enough upmarket desirability give the Q7 the noble nod."
We were a little more enthusiastic about the big-power boost that arrived in 2007, in the form of the 4.2-litre V8 TDI engine. In the August issue of that year we wrote: "Audi has just dropped the world's most powerful diesel into the Q7. The V8 oil-burner boasts 326bhp and a scarcely credible 560lb ft of torque, making it the newly-crowned SUV heavyweight champ." Not only quick, but very refined: "The Q7 is quieter than a slipper-shod church mouse – almost too quiet, creeping up to three-figure speed on the motorway is worryingly easy. Meanwhile the firm air suspension virtually negates body roll and keeps all four wheels firmly on the road. Only the Porsche Cayenne surpasses it for dynamic prowess."
The Q7 featured fairly regularly in the Prestige group of our annual 4×4 Of The Year contest, but faced with competitors with more off-road ability and significantly more style, the Audi has never come close to winning – comments are usually along the lines of "it's big and very well made." But what of the stunning 500bhp V12? It got a mention in the issue of January 2012: "We shouldn't ignore the fact that Audi does offer its range-topping Q7 with the 6.0-litre V12 that develops almost 750lb ft of torque, but with a starting price of £100,000 making it one of the most expensive 4x4s on sale today, you have to wonder who pays that much for an Audi? Sure, it's blisteringly fast but the turbocharged Cayenne is faster and £15k cheaper, while similar money will buy you a fully loaded Range Rover with greater comfort and real off-road ability."
High depreciation would make a second-hand V12 Q7 a relative bargain, and with its very pedestrian styling it would live up to its name as a true Q car, but you'd have to find one first.
Which one to buy
Much of the equipment fitted to any Q7 will have come from the extensive options list, so will depend either on what the buyer ordered or the selection of features a dealer specified on showroom models, so even a base model could have a surprisingly luxurious interior. The standard equipment throughout the range includes electric windows, automatic climate control, rain sensing windscreen wipers, automatic headlamps and alloy wheels, the SE adding polished aluminium instead of black roof rails, aluminium dashboard trim and electric seat adjustment. The S Line has Xenon headlamps and sports seats. In-car entertainment was optional to suit the new owner's personal requirements, from a six-disc CD autochanger and Bose sound system for the base model to a £4000-plus Bang and Olufsen sound system in the S Line; satnav was also optional. It's worth checking the exact interior specification of any car since details like electric rake and reach adjustment for the steering wheel, leather upholstery (including Alcantara headlining), air conditioning for the rear seats and tyre pressure monitoring were options even on the base model; also look out for examples with the £800 television reception pack, the panoramic sunroof or any of the equipment 'packs' – the comfort pack costs an extra £1500, the technology pack with the MMI facility was a £2500 extra, call it £2900 if it included the advanced parking system. Note that the third row of seats could be deleted, so check that they're there.
The potential wide diversity of equipment levels makes it particularly difficult to put a general price on a used Q7, but ought to add interest to the search for one that meets your specific requirements.
Anyone with more money than sense should instantly dial 01322 584778 and ask Dart Trade if they still have the 6.0-litre V12. It's grey but has the full works of options, including ivory leather, the comfort pack, rear seat entertainment, MMI system, double glazing, panoramic sunroof, lane change warning, electric tailgate, voice control with Bluetooth and the Bang and Olufsen premium stereo, a 2009 model but just 61,000 miles old and yours for a fiver under £40,000 – a bargain for a car that cost over £100,000 new; it has a full dealer service history and an MOT to February 2016.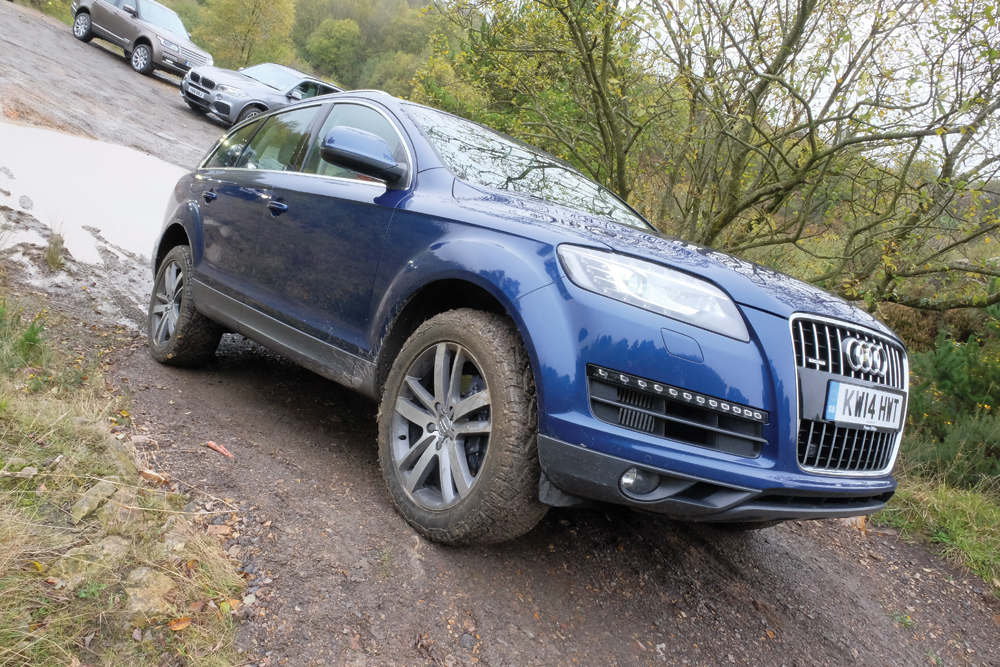 If loony performance isn't a priority there's a huge range of 3.0-litre turbodiesels available, expect to pay around £10,000 for an early 2006 example with over 100,000 miles. Most lower-mileage cars of this age we've seen are being advertised by private sellers, presumably because dealers aren't offering sensible trade-in values. From a dealer expect to pay from £16,000 for anything with under 100,000 miles, Fast Lane in Stoke-on-Trent (01782 659800) were offering a 60,000-mile S Line in brilliant black but with few extras at £15,685.
Look for a car from 2009 on to take advantage of the cleaner diesel engine, pay from £15,000 for a smart S-Line without all the expensive add-ons, for instance GCS Car Sales of Western Avenue, London, (020 8752 1509) had a gleaming black example at that price with 60,000 miles, full leather interior, full service history, six-month warranty and MOT to April next year. For a similar car with lots of extras expect to pay more like £20,000, West Kent Motors had a one-owner metallic black S Line with satnav and the technology pack, 20-inch wheels, black leather upholstery with Alcantara inserts, at £20,788.
Do check main dealers for good prices on nearly new run-out examples. Wearside Audi (0845 597 9139), for instance, were asking £46,990 for their ex-demonstrator, a 64-plated 3.0 TDI 245 S Line Plus (new price £52,585 without options) with 5000 miles, in glacier white with black Verano leather interior, 21-inch alloys, MMI control system with voice activation, parking assist and HDD satnav, while Taunton Audi (0844 247 9154) were selling their 64-reg 245 S Line demonstrator with just 2000 miles on it, a lava grey pearl effect car with panoramic roof, for £49,000.
ENGINE DRIVETRAIN CHASSIS ENGINE BODY AND INTERIOR
None of the various engines used in the Q7 have any inherent reliability issues, though the high level of electronic controls, mainly aimed at keeping the emissions clean, can lead to problems if a sensor fails. On any test drive make sure all the warning lights, in particular the orange glow plug indicator, go off and that the engine runs sweetly and smoothly, ensuring that it reacts instantly to sudden acceleration. Electronic glitches can put the motor into "limp" mode and it seems that, in spite of modern plug-in electronic diagnostics, dealers aren't always able to define the source of the trouble and affect a proper repair. On any turbodiesel reject any car that has a smell of diesel about it or blows excessive black exhaust smoke under acceleration. Also reject a car that exhibits too much turbo lag, various software updates installed during service attention, again usually aimed at improving emissions, can affect the fuelling system.
Early cars had a six-speed automatic, later models an eight-speed shifter. The tiptronic system allows the transmission to be set to normal or sport modes and there's a 'manual' function allowing shifts to be made using paddles behind the steering wheel. Make sure all these functions work properly; the Sport mode allows the engine to reach higher revs before upshifting, you may need to drive in a sporting fashion to detect the effect. Make sure the shifts are responsive and seamless, note that you may need a heavy right foot to elicit a kickdown, this is an inherent trait again emissions-related. Reject any car that exhibits any vibration or excessive noise under acceleration or transmission hunt when shifting into reverse.
The biggest problem affecting the Q7 is failure of the air suspension system, so make sure not only that the car sits square but that the various height settings work properly and that the sport and comfort modes do have the necessary effect. Brake pad wear can seem excessive, but this is a heavy car; pad replacement isn't a problem but also check the state of the discs, not only for excessive wear or scoring but also for corrosion, which could lead to an expensive repair. On an open stretch of road try the brakes to check the car doesn't pull to one side, suggesting a seized caliper. Even on an older car steering and suspension bushes shouldn't have worn excessively, so reject any car making clonking or rattling noises when running over potholes. The steering is speed sensitive, it should be light when parking and taut at speed, there should be no vibration or knobbly feel, or groans on full lock.
None of the various engines used in the Q7 have any inherent reliability issues, though the high level of electronic controls, mainly aimed at keeping the emissions clean, can lead to problems if a sensor fails. On any test drive make sure all the warning lights, in particular the orange glow plug indicator, go off and that the engine runs sweetly and smoothly, ensuring that it reacts instantly to sudden acceleration. Electronic glitches can put the motor into "limp" mode and it seems that, in spite of modern plug-in electronic diagnostics, dealers aren't always able to define the source of the trouble and affect a proper repair. On any turbodiesel reject any car that has a smell of diesel about it or blows excessive black exhaust smoke under acceleration. Also reject a car that exhibits too much turbo lag, various software updates installed during service attention, again usually aimed at improving emissions, can affect the fuelling system.
Corrosion shouldn't be a problem on any well-maintained Q7, again the main problems lie with the electrical systems so make sure the remote central locking works properly on all the doors, if the tailgate has the electric opening function make sure it works, check the electric windows on all doors. The stereo is unlikely to be problematic, it's more important to check that ancillary features such as the Bluetooth connectivity and voice activation work properly, because failures are not uncommon. Check that the satnav is up to date. Many Q7s will have had optional leather upholstery, and there has been some question about the quality of some of the materials; check the condition of the coverings on all the seats, looking out for attempts to hide cracking or scuffing under coloured upholstery polish.
OR YOU COULD CONSIDER…
Toyota Land CruiserVolvo XC90Land Rover Discovery 4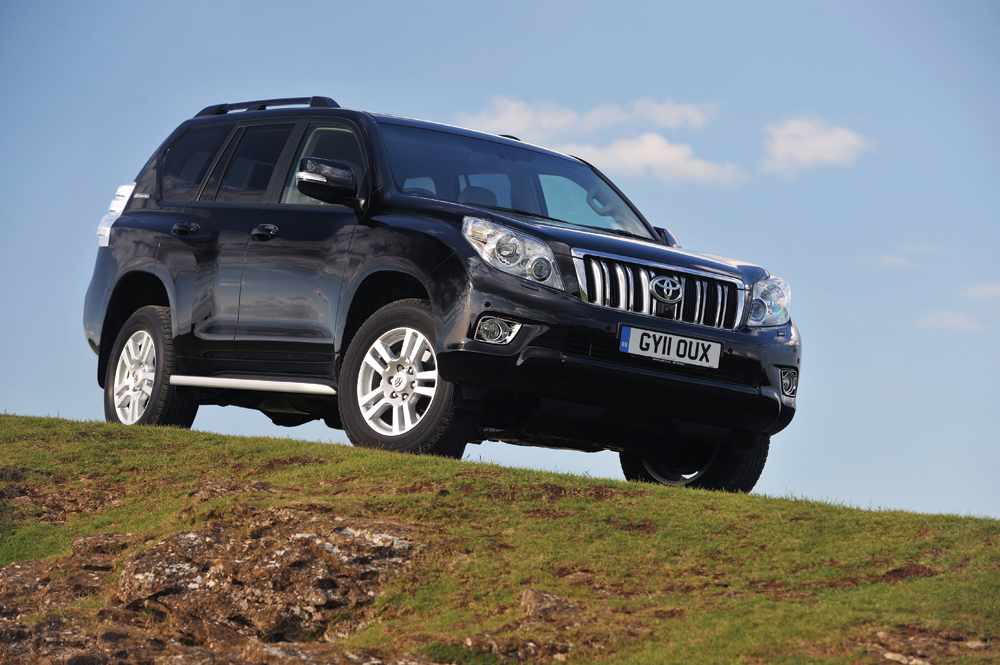 Where the Q7 oozes luxury and modern high-tech electronic wizardry from a rather plain-looking body set on a road-biased chassis, the Toyota has serious road presence and proper off-road capability with a luxuriously furnished interior but rather old-tech mechanicals. Which, when considering the potentially expensive repercussions of electronic failures in the Q7 – and these are not unheard of – the Toyota would seem to offer a lot more in the way of long-term reliability. In terms of perceived image it's probably not going to appeal to anyone wanting an Audi for the sake of the badge rather than its practicality, but as a thoroughly practical seven-seater family estate with excellent safety features and a reputation as a great tow vehicle, the Toyota is hard to beat at the price – pay around £23,000 for a 62,000-mile high-specification LC 4 of 2012 vintage with full leather interior, HDD satnav, power sunroof, Bluetooth, climate control and parking sensors.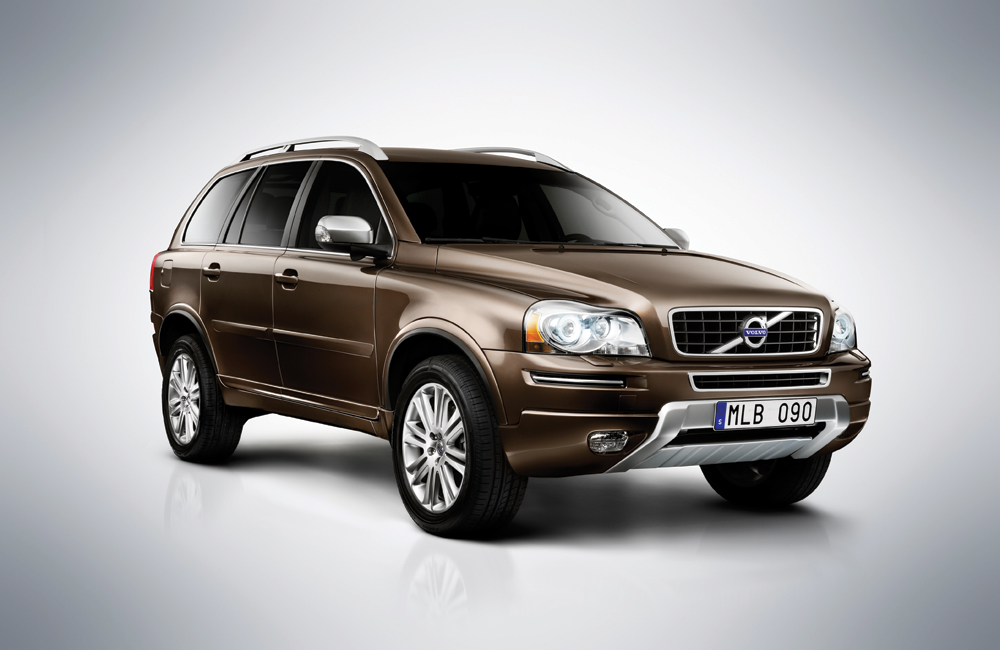 The Volvo's long-standing reputation for safety, solidity and reliability hasn't helped it to achieve the same high levels of image value enjoyed by the Audi, but in practical terms the XC90 serves just as well as an all-weather family estate, perhaps a more natural alternative than the Land Rover or Toyota because, like the Q7, it's designed mainly for on-road use. Hence from an image point of view it might not be the obvious choice for someone aspiring to Audi ownership, but if on a test drive the heavyweight Q7 feels a little more ponderous than you'd expect, the Volvo might surprise with its light controls and taut handling, especially in post-2010 models which have a lightened chassis and revised dampers to improve handling, plus refinements to the D5 turbodiesel to improve economy to 33.2mpg. For £20,000 you should get into a low mileage 2012 SE Lux with leather upholstery, satnav, premium sound system, Bluetooth, auto wipers and bi-xenon headlamps.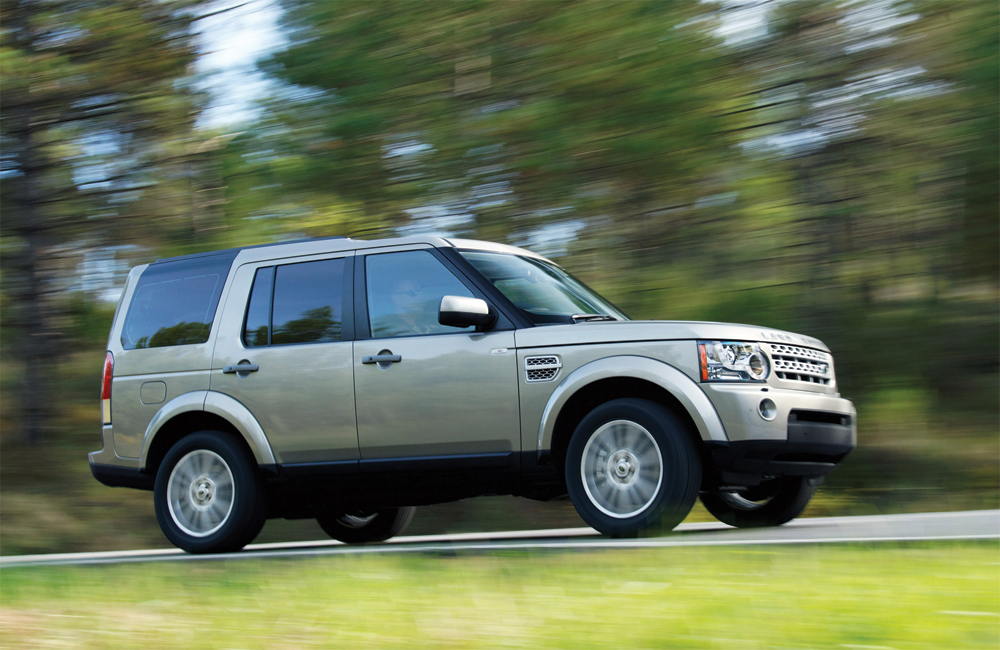 Here again is a true off-roader with excellent road presence, a car that makes significantly more of a statement than the Q7, which stylistically blends itself into the background of more conservative SUVs. In spite of its bulk the Discovery 4 is a superb drivers' car, the seven seats are more accommodating than those of the Q7 and it can be specified with high levels of luxury equipment and cutting edge electronic driving aids. All the rear seats can be folded flat to turn the car into a van-like cargo carrier – not for nothing has it been described as the most complete family estate. The 3.0-litre TDV6 is a smooth twin-turbo machine delivering string and steady performance, like the Audi driving through a refined eight-speed automatic. The trailer stability assist function adds to already superior towing ability, while the surround-view camera option is an excellent parking aid. Pay upwards of £22,000 for 2011 HSE or 2012 GS.