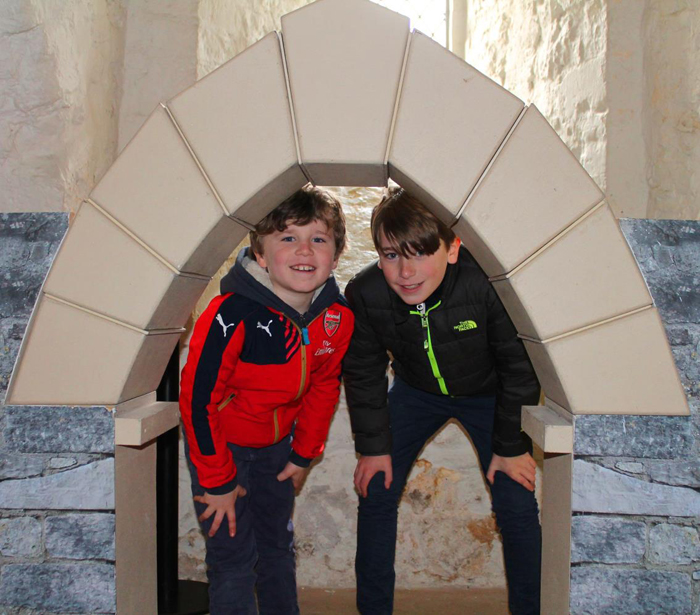 Get 'hands-on' at Beaulieu this February half-term with a wheel bubble balancer and balloon car challenge in the National Motor Museum, costumes and toys in Palace House and  medieval building at Beaulieu Abbey.
The fun activities for all the family will run throughout the school holidays from February 11th to 26th.
Pick up your Hands-On Half-Term Pass Book and fill it with stamps at each of the activity stations around the attraction, taking a pit stop break for a chocolate milk drink reward at the Brabazon Restaurant.
Honk the horns and try on goggles as you test early motoring clothing, handle historic motoring objects and take a close-up look at the artefacts, photographs and documents in the museum.
Balance a wheel with the bubble balancer by placing weights evenly around a tyre. Then create your own balloon-powered car and try racing it in the balloon car challenge.
Visit the monk in the 13th century Beaulieu Abbey and build an arch like a medieval builder in the historic setting.
Then dress up as a Victorian and play traditional games in Palace House, which has been home to the Montagu family since 1538 and shows life 'Upstairs and Downstairs' in a Victorian country house.
All of the activities are included for free with general admission entrance. Rides on the popular high-level monorail, vintage bus and Wheels – which takes you on a journey through time to experience 100 years of motoring history – are also included in your great value ticket.
A ticket to Beaulieu includes the National Motor Museum's collection of more than 250 vehicles – from the fastest Land Speed Record breakers to a giant motorised orange – the World of Top Gear, On Screen Cars and the beautiful gardens and grounds.
Beaulieu tickets can be bought in advance online. For prices or more information see www.beaulieu.co.uk/events/hands-on-half-term / or call 01590 612345. Beaulieu is open daily from 10am-5pm.