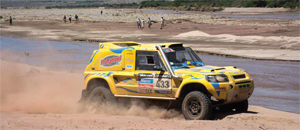 MIKE AND SUSAN Jones produced a gritty performance in their Rally Raid UK to reach the finish of the Dakar in 51st overall, writes Neil Perkins. Eight years after tackling the event and retiring after 11 stages in 2006, the founder and co-owner of Rally Raid UK was determined to reach the finish.
"I used to race enduro bikes internationally when I was younger," said Jones. "In 1982, I was meant to do the Dakar, but I missed the opportunity. That's when I really discovered the rally. It took me almost 20 years to get back but I moved to cars after injury. I first competed in the Dakar in 1999 with Paul Round. Since then, I've taken 350 team customers to the event. That's also why, for business reasons as well, we absolutely had to get to the finish!"
Well done to Mike and Susan! A full report on this year's Dakar Rally starts on page 70 of the March 2014 issue.
Buy the latest issue here